By Stephanie Jorgl
"QuickTime is probably one of the most significant contributions made to the 90s," says Chris Fenwick, director of one of the longest-running public tech-television shows, "The Computer Chronicles" which is now in its 19th season.

"I first saw QuickTime in the late 80s. That's when I decided, 'Man, my whole industry is going to be on computers in a decade.' Well, here we are!" he says.

As a result of this inspiration, Fenwick got a Mac, learned to edit video using a Media100 PCI card, and founded Broadcast Business Graphics (BBG), a video and commercial producing company that works for Intel, Sun Microsystems, Palm and other high-tech companies.

Macs Only For Video
Today, Fenwick runs the video end of his business with Final Cut Pro, Photoshop, Illustrator, After Effects, Cleaner 5 and Sorenson compression.

"In the video business we use only Macs," says Fenwick. And he's got four in his coffers at BBG: a Power Mac for editing, an iMac for "client play time," a Titanium PowerBook G4 for video editing and road work, and an additional PowerBook for remote graphics, accounting and other office functions.

"The one shoulder bag I have that carries the Titanium PowerBook effectively replaces five road cases of gear that I used to travel with to do remote edits," gleams Fenwick.

Multiprocessors Rock
When asked about his thoughts on multiprocessors, Fenwick responds, "Bring 'em on baby—the more the merrier! Multiprocessors are what advanced apps and Mac OS X are all about. Why not divide up the work and share the load?"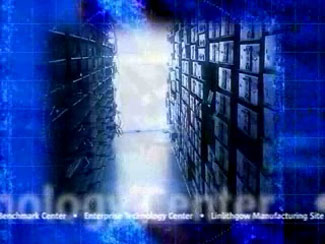 On Final Cut Pro
Although Fenwick admits he is not an experimental plug-in artist, he can't quite get enough of the ability to use effects to adjust each separate clip. "I love the clip-based motion effects in Final Cut Pro—any clip in a sequence can be fiddled with just about anyway you want," he says.

"Final Cut Pro is the future," states Fenwick. "We are seeing this little $1,000 app change the world for anyone that wants to communicate with pictures."

Delivering DVD
"I'm really looking forward to delivering DVD approval copies of everything to my clients instead of VHS. The idea of authoring is only the tip of the iceberg," says Fenwick.

"We are about to take delivery of a G4 'duellie' in order to build a bigger Final Cut Pro suite and a DVD station," he says.

"In about 18 months, if you can't deliver a DVD in your post suite as a walk away deliverable to a client, those clients are going to look down on you as a primitive supplier—like you're still using floppies or something," he adds. "DVD is the future, and the future is here."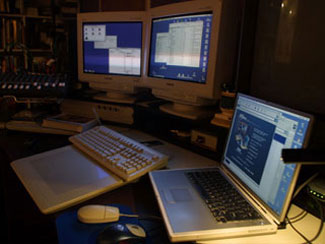 Internet-based Audio Editing
"There have been projects I have worked on that have required audio capabilities beyond my personal ability," explains Fenwick. For audio insight and expertise, Fenwick calls upon his old college roommate, Jeff Dykhouse.

"Jeff and I have done all of our collaborating online. We always used to say that one day we would run a cable between his recording studio and my edit suite and 'rule the world' Well, the Internet has put us one step closer to that dream."

"Sun asked me to create an effect once that required a special audio treatment. So I posted a QuickTime file online, which Jeff accessed and dropped into his ProTools system," recalls Fenwick. "Then he whipped up the sound for the visual effect. By the time I walked back into my office the next day, the file was in my inbox and waiting to be dropped into the timeline."

Dykhouse's primary audio work is mixing and mastering for Vineyard Music, and a number of his mixes have appeared on platinum-selling compilations.

Mac and ProTools
Not surprisingly, Dykhouse also works on a Power Mac running Bias' Peak and Digidesign ProTools. "I can fix almost any audio problem with ease using these programs—whether it be a problem of pitch, timing, or excessive noise," he says.

"The combination of ProTools and the Power Mac has completely replaced Jeff's analog 24-track studio at 1/10th the cost, and you don't need years of training to run it effectively," says Fenwick. "Both Peak and ProTools can extract audio from a QuickTime movie for editing, problem solving, and sweetening. The finished audio can then be bounced back to the movie."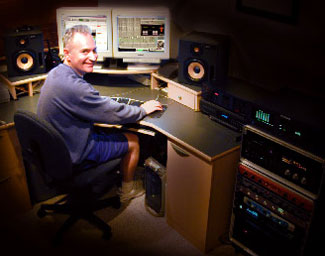 Delivering The Internet Goods
In fact, lately Fenwick's group is putting out a lot more projects that are strictly for web delivery. "All they want is a file that plays online," he says. "Done… QuickTime is the best looking, period."