Thomas Clinton Fenwick
April 17, 1927 - May 14, 2006
---
A Memorial Mass was held at 4:00 PM, Wednesday, May 24
at the Cathedral of St. Mary's in San Francisco.
---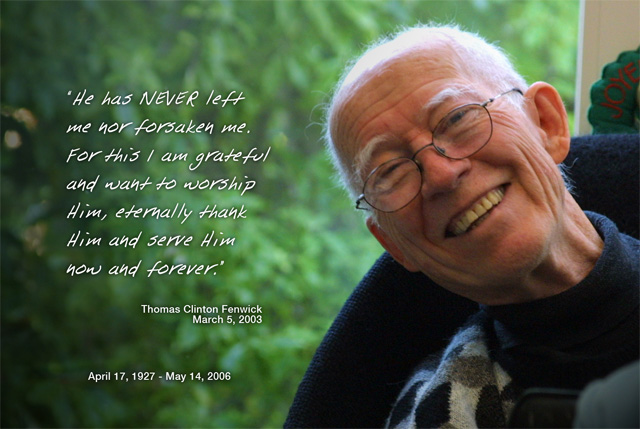 Christmas Day 2004
---
"The greatest blessing in my life was being introduced to God, Jesus and the Holy Spirit the great I AM at a very early age. He has been my Guardian, Mentor and Protector all of my life, since age 10 or 11 His angels have watched over me. Though through the sin in my life I have ignored Him at times, He has NEVER left me or forsaken me. For this I am grateful and want to worship Him and eternally thank Him, and serve Him now and forever."

Tom Fenwick - March 5, 2003
---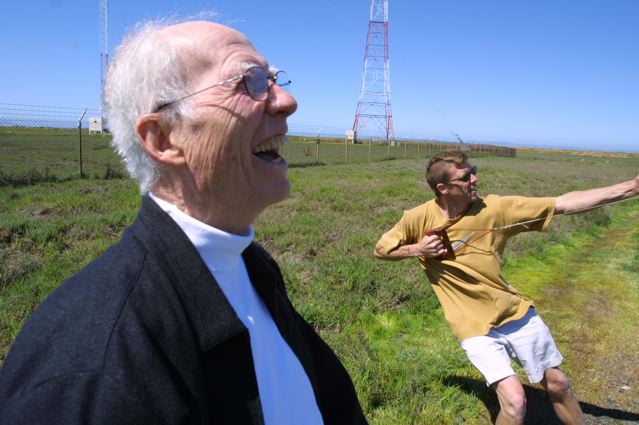 Jon Fenwick flying his kite, Tom Fenwick thoroughly enjoying it. 2002
At 4PM on Sunday May 14, 2006 while sitting at the table having an early dinner with my mother, my father slumped down as if he was picking up a napkin off the floor. My mom said he "floated down to the floor". By the time she got to his side she could tell that he was already gone. Almost immediately she began calling all of her sons and urging them to rush over the hill.
My mom says they had a wonderful day. They had planned on going over the hill to visit some of the kids for Mother's Day but decided against it at the last minute. They had gone to Mass on Saturday night and were just taking it easy on Sunday. Dad had given my mom a very sweet Mother's Day note to the mother of his children and had ridden the "Health Rider" doing a 100 repetitions. He told my mom it made his legs feel great.

Mom looked through the fridge and then the freezer and found a nice piece of steak, and although my father RARELY ate red meat they decided it would be a nice treat on this lazy afternoon. Mom says they were having a great time, laughing at themselves and purely enjoying their life together. Then, it was all over.
My mom said he died wonderfully, "You did a good job Fenwick" she was saying when we arrived about an hour later and just minutes after the paramedics had pronounced him dead at 5PM. My mom was so pleased that he didn't die in pain or over a long period of time. She was also very pleased that they had not chosen to be on the road. It was a very peaceful and dignified way to die, minus the tubes, needles and monitors of a hospital.
Earlier on Sunday my mom had received a daily email that she gets and while seated in his favorite chair in my moms Art Room/Office she read to him from the writer, Henri Nouwen, Daily Meditation. On that morning it read this...
---
Praying to Die Well

Many people say, "I am not afraid of death, but I am afraid of dying." This is quite understandable, since dying often means illness, pain, dependency, and loneliness.

The fear of dying is nothing to be ashamed of. It is the most human of all human fears. Jesus himself entered into that fear. In his anguish "sweat fell to the ground like great drops of blood" (Luke 22:44). How must we deal with our fear of dying? Like Jesus we must pray that we may receive special strength to make the great passage to new life. Then we can trust that God will send us an angel to comfort us, as he sent an angel to Jesus.

---
How appropriate.
---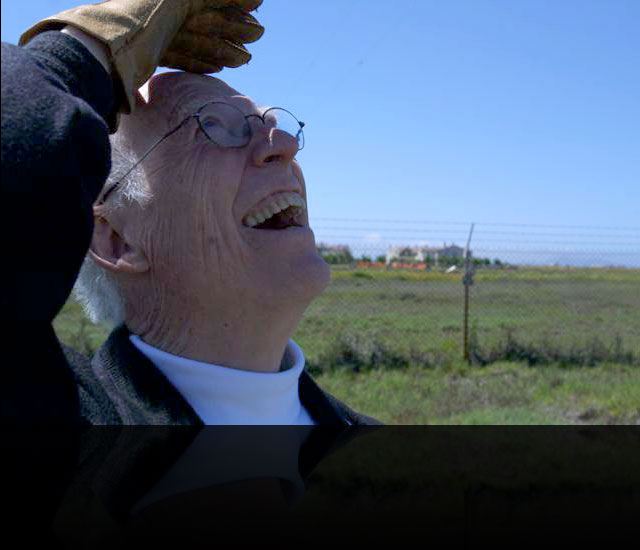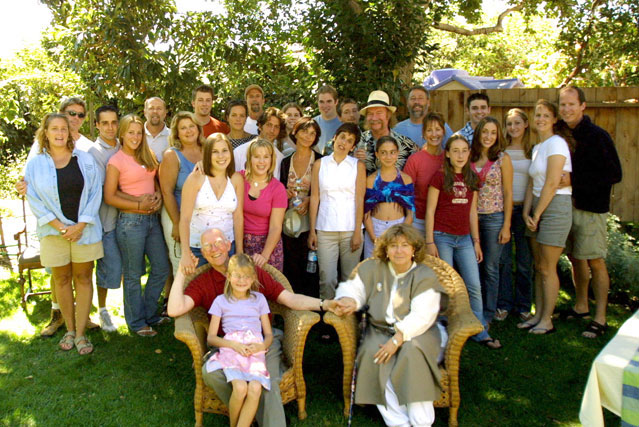 Believe it or not, this is not everyone. Missing was Mike Fenwick (5 of 7),
his wife Karen and their daughter Julia, and Matt Roehm.
---
A Letter from Terry Fenwick:
May 19, 2006

I thank you for keeping our family in your prayers. We are doing wonderfully well - there is much rejoicing and many tears. Our son, Kevin, is here from France and our son, Michael, is arriving today from Vermont. All seven sons and most of their families will be here that day.

Everyone is being so beautifully kind and caring. Our sons are being rocks for me and I am just fine. Very protected by the Lord and those He has given me here on earth!


May 19, 2006 - This is the first time all the boys have been together since 1998. (Back Row: Mike Fenwick, Ted Roehm, Tim Roehm, Kevin Fenwick, Tom Roehm. Front Row: Chris Fenwick, Mom, & Jon Fenwick.)

Our sons and their families are doing very well as they are surrounded by people who love them. So many of their friends who knew and loved Tom Fenwick are contacting them coming to their homes and showering them with love and tears. Their friends are saying and writing such beautiful words and memories of their lives with Tom Fenwick from Montecito, San Mateo and here in Half Moon Bay. One son last night was flooded with emails and he said, "He was a Great man!" Tom would have reminded him that, "I was a man with a Great God!"

As his family we all agree that we were blessed to know Tom Fenwick and even more blessed that he was our Husband, Father, Grandfather and best Friend.



Easter 2002 at Tom Roehm's house.


Easter 2003 in Tom Roehm's backyard.

I, personally, feel very close to Tom, my husband of 46 years! He is not in my bed (that is much tooooooo large!) and that continues to surprise me in the middle of the night and morning – as I reach over to see if he is okay - but he is closer than life as we knew it. I can't bring myself to change the sheets. I slept with a sweater he had worn Saturday and tried to smell him but you know he was so clean. I used his towel from Sunday when I took my shower. That was sweet. I folded up his last washcloth and kept it with my things.

I keep asking, "Tom, can you have them send for me soon?"



Every year at Christmas dad would read from this little tattered book of the Christmas Story.
In our home it was more of a tradition then even hearing Linus tell the story. (Christmas 2004)

Physical death, when we know we have Eternal Life, is what we live all of our earthly lives for - then we have that wonderful moment when we step across and have Eternal Life at the fullest. Tom had his Sunday. He floated away. I can hardly wait. I am more and more aware I need to be prepared, as prepared as he was for that second in time. That nano-second in time. We all need to be prepared for that moment, don't we? I know Tom was. Isn't that wonderful? He never carried a grudge and would not let me be angry with others. Keeping short accounts is what it is about, isn't it? Deal with disagreements and do it quickly. I would see him pray when someone had done something to him that was less than kind and he did not struggle long to put things in perspective. We just have to remember every night to ask the Lord what we have done that day that might have saddened Him. A wonderful wise man said to me once, "Weep at the things that would make the Lord weep - laugh at the things that would make the Lord smile."

I cannot tell you how wonderful it is to know where Tom is and where I am going.

The birds are singing at 10:38 AM and I cannot help but think they are singing just for me.

I am full of love and look forward to seeing any and all of you at the Memorial Mass. The date will not be changing and it is next Wednesday, May 24 at 4:00 PM.

Thanks for your prayers and my love to all of you, Terry

1 Thessalonians 4:13-18


But we do not want you to be uninformed, brethren, about those who are asleep, so that you will not grieve as do the rest who have no hope. For if we believe that Jesus died and rose again, even so God will bring with Him those who have fallen asleep in Jesus. For this we say to you by the word of the Lord, that we who are alive and remain until the coming of the Lord, will not precede those who have fallen asleep. For the Lord Himself will descend from heaven with a shout, with the voice of the archangel and with the trumpet of God, and the dead in Christ will rise first. Then we who are alive and remain will be caught up together with them in the clouds to meet the Lord in the air, and so we shall always be with the Lord. Therefore comfort one another with these words.

---
Dad's Mother's Day note written the day before his death.
MOTHER'S DAY 2006

I know Sunday is "Mother's Day" and
I know you are not my Mother but
I wanted to take this opportunity to tell you
You have been a wonderful and cherished person
to all of us who have shared this life with you

my companion and lover
I love you

---
Update - May 28, 2006
by Chris Fenwick
With two weeks of reflection, as I rethink the beauty of that day, the wonderful weather, the peaceful morning, the message from Henri Nouwen, I think my dad was finally ready. I know that he had a VERY deep feeling of responsibility to care for my mom, to be there for her and provided for her.
I also think that a lesser man would have died on the stairs when he fell back in December. I believe that upon hearing my mom's voice, "Tom?? TOM!!?? Don't you leave me!!! Don't you leave me TOM!! I need you!", that something happened. Maybe there was intercession, maybe it was purely his own will but he did NOT go then. He was not prepared to leave us yet, he was not prepared to leave my mom yet.
One thing that my mom has discovered in the past 2 weeks was the preparedness that my father had been achieving in the last weeks of his life.
A few days after his death my mom was on the phone with their insurance agent. He was asking my mom for papers that were important. She was in my dad's home office and looking everywhere, in the desk, in the drawers, in the filing cabinet, everywhere. Right about the time she started getting frustrated she noticed that she had been stepping over a box on the floor next to his desk. She picked up the box and there they were... the papers the agent needed. Actually EVERYTHING she needed was in that one box. It appears as though my dad was quitely gathering everything that he knew my mom would need when he was gone.
That's my dad...
---
If you would like to contact the family members.
| | |
| --- | --- |
| Terry Fenwick | eMail |
| Ted Roehm | eMail |
| Tom Roehm | eMail |
| Kevin Fenwick | eMail |
| Tim Roehm | eMail |
| Mike Fenwick | eMail |
| Chris Fenwick | eMail |
| Jon Fenwick | eMail |
Update - June 6, 2006
by Chris Fenwick
Yesterday was my brother Jon's birthday. Tonight Mom invited us to dinner to celebrate. After dinner Mom told us she had a dream the night before. In the dream she was talking to one of us boys on the phone. This is how she described it to me tonight on iChat.
"I was talking to either you or Tom on the phone"

"I know that but don't ask why I can't tell you which one"

"and I heard the noise"

"I turned to look to see what it was and he was standing right there"

"he had a long sleeved pale blue shirt on"

"cotton and soft - very soft as I touched it"
She paused for a bit and I asked her to go on...
"oh well when I heard the noise I turned and I saw him from the side (not face on) and he picked up the bottle of water and raised it to his lips, tilted his head all the way back and drank all of the water"

"that was when I was trying to say something to you or Tom on the phone that Dad was here"

"and I could not get it out"

"I knew it was him and then I tried to call to him and to reach him and I couldn't reach him but I stretched and stretched and finally grabbed his sleeve (left arm sleeve) as he was putting the water bottle down then"

"I knew the fabric was cotton but I have never felt anything that soft in my life. It was the softest cotton you could imagine - even softer. I could not feel his arm."

"when I pulled on his sleeve he turned and looked at me face to face - his hair was very, very white and he smiled and then he vanished, in the dream and I woke up to look to see if he was here and he was not"

"he looked like he had been working - taking a break for water but showing me he could bend his neck way back and he looked so handsome and so healthy"

"I noticed that he was handsome, very very white hair and healthy"
The significance of this story is that after my dad's fall in December his neck never really recovered. He couldn't tilt his head back to drink out of a bottle of water so the fact that my mom CLEARLY saw from the side that he could tilt his head back was very important. The other reason this story is significant is that dad was always reminding mom to drink water. It is just like him to want to take care of her like this.
What was so fun was to listen to the detail that my mom remembered all of this in. It made me sad to listen to it though because it showed me just how much my mom was missing dad. Not sad in a bad way, like, "I don't want to hear these kind of stories" (I have to say that because otherwise mom won't share her dreams with me anymore) but sad in a way that makes me miss dad... and that isn't bad. Of course I'm going to miss him, and I want to. I want to be reminded of what he stood for. What he believed in and what he cared about.
Then after dinner Beth and I dropped by Jon's house to see his new lawn that he put in the front yard. I walked in his living room and he had the chairs from my dad's office. I'll get a photo... immediately the chairs made me think of all the times I went in to talk with dad about stuff... the comfortable way those chairs felt as I would sit there and talk to him... I'm not sure that Jon and Christine want to keep those chairs and I don't know if Beth wants them in our home... but I LOVE those chairs and I would like to have them in our house...
---
Update - August 13, 2006
by Terry Fenwick - (The great granddaughter of Benjamin Franklin Meade of Fithian Illinois)
It has been three months tomorrow since Tom left and I have definitely decided I do not like to be a widow. I hear myself say that a lot these last few days. "I don't like being a widow!" There is no one here to hear it but me but I still say it aloud.

The dictionary definition for widow is: (noun) a woman who has lost her husband by death and has not remarried and then (humorous) a woman whose husband is often away participating in a specified sport or activity : a golf widow.

I like the latter definition as I don't like the word Death. I keep saying, "What is there about Eternal Life we don't understand? We don't really die, we just change our address." However, I guess we physcially put away to decay our old bodies (until the ressurrection) as our soul moves on to heaven or, to that other place if we are not going to have Eternal Life with God.

The latter definition of a woman whose husband is often away participating in a specified sport or activity - well, I like that. What is he doing now? Worshiping God and singing choruses of Allelulia? Do they know about us? I think so.

I liked the origin of widow from the Old English in the same dictionary. It comes from a word meaning 'be empty' and that is a good definition. Do you wonder if they have an emptiness in heaven for a time? Does God allow them to be lonely? Do they miss us? I have a picture of Tom - some of you have seen it on the site or at the Memorial Mass - where he seems to be watching me no matter where I am. If I am on the right of the picture, he is watching me, if I am on the left side of the picture, he is watching me and if I am in the loft upstairs, he is watching me from the picture on the piano. It is amazing.

Anyway, I really don't like to be a widow. I don't even like the word. It will get better.

File under "W" for Widow, "L" for Lonely, and "M" for Miss you.*
*This is a reference to how my mom files things on her computer, a joke that she and I have had for many years.