The Flood
January 25, 1969
---
You can't orbit too close to the Fenwick/Roehm family without at least hearing mention of "The Flood". On January 25, 1969, after many days of hard rain, the creek behind our home in Montecito over ran it's banks and destroyed our house. My father was 41 years old at the time. Over the course of the next year and half Dad, along with the help of the older boys rebuilt the house. (Jon and I were more often then not just in the way.) It took him over a decade to pay off the low interest government loan, but he did it.
For years there was a little grey envelope in my parents dresser drawer with the photos that were taken during that time.
When I sat down to scan all the photos of the flood I wasn't sure how I was going to go about it. The pile of photos was a bit daunting. When I grabbed the first batch of photos and layed them upside down on the scanner I immediatly noticed, in the upper left corner a small red number on a couple of the photo. After taking a look at the photos I realized that my dad had, at one time in the past, decided to "tell the story" sequentially.
Only a few of the numbers were missing. Perhaps someone, somewhere along the way, had taken a photo for a school project or whatever. Maybe dad purposely left blanks in order to find a photo that he "thought he had seen". Who knows.
There were others in the envelope but I thought it was interesting to see what dad had chosen to tell the story.
The rest of photos can be seen here.
The Flood: During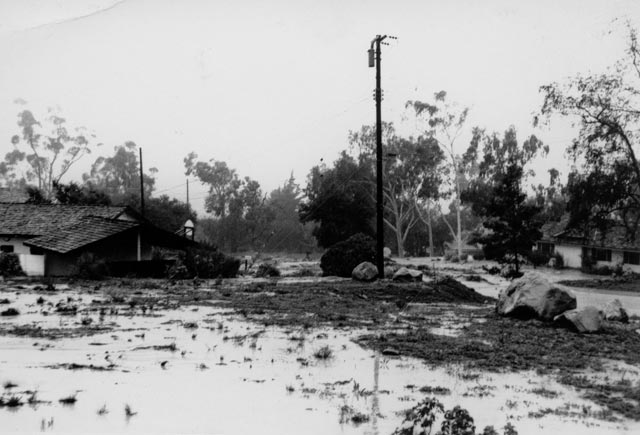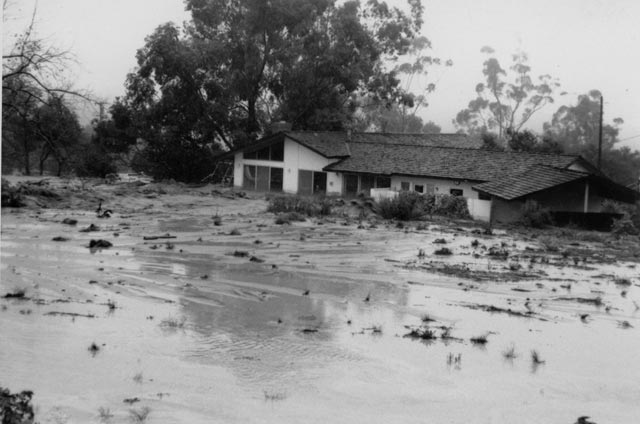 From mom...
"It was amazing to see! I saw the first belch of the mud and had to take the children away. I was sitting in my van up the hill in the driveway about two acres away and high and dry as I watched, with Jon and Chris in the car with me, the pool totally disappear with much in one gulp. I mean it was covered and the fence went away like tootpicks - the pool fence. We saw an old oak tree that was guesstimated to be about 200 years old go like a feather."
eMail comments July 8, 2006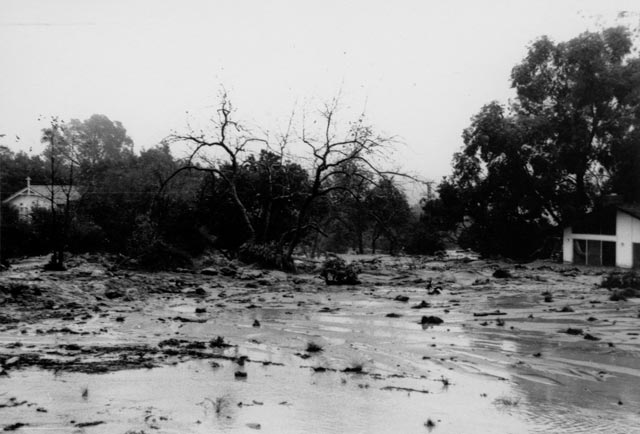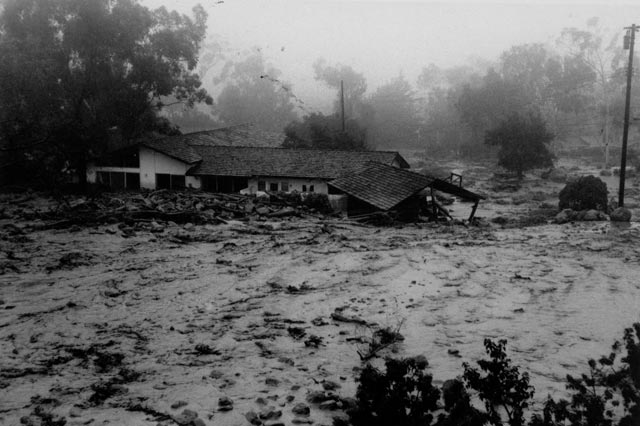 From mom...
Had it come in the middle of the night - or two hours earlier, we might not have been able to see to get out. Tom was checking the creek all night long...
eMail comments July 8, 2006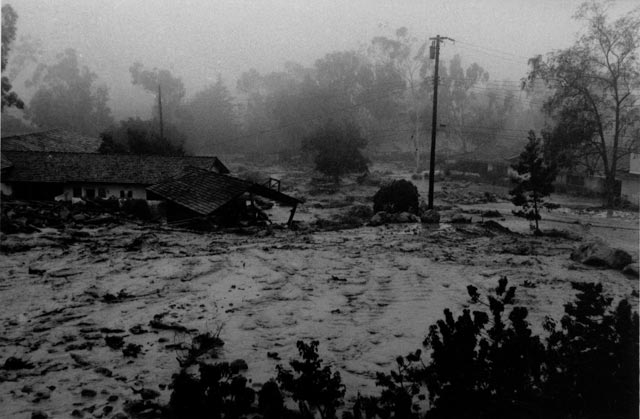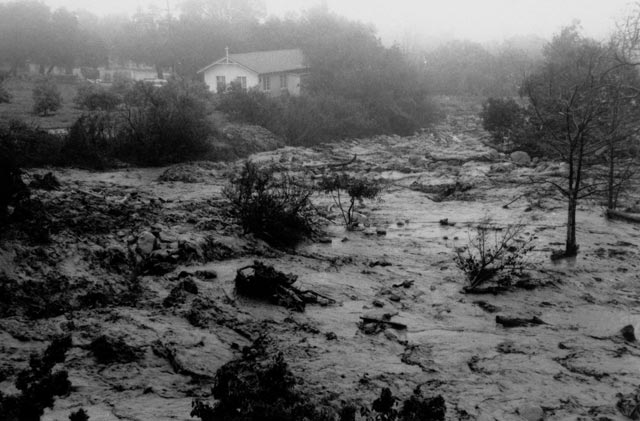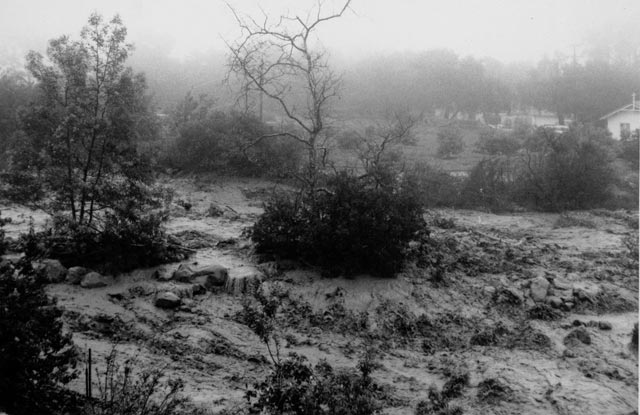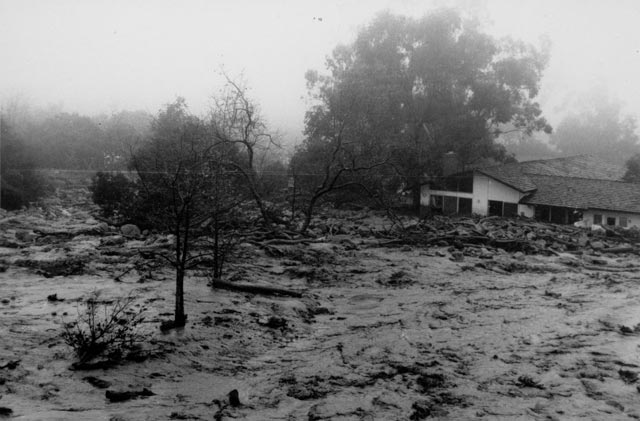 The Flood: Aftermath
From mom...
The water has subsided in most of the latter pictures and is not as high as it actually was in the beginning.
eMail comments July 8, 2006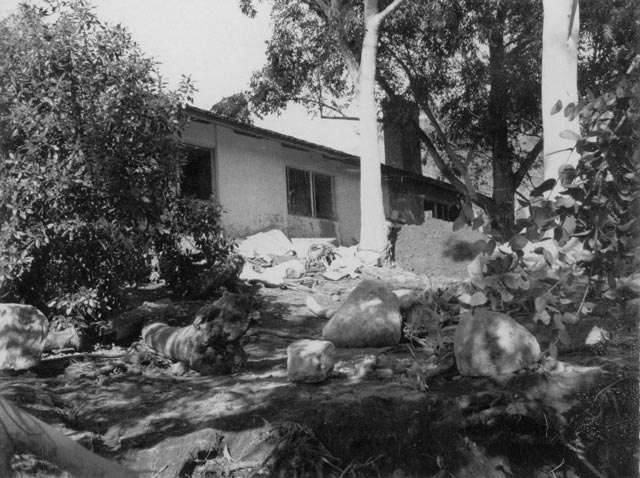 From mom...
It was a dreadful time but we had nothing to compare it with and Tom, like the leader, father and husband he was, moved ahead and we just followed. I ventured out to look for another home but for some reason it seemed almost disloyal not to fight the battle to the end as we all knew how blessed we were not to have been injured.
eMail comments July 8, 2006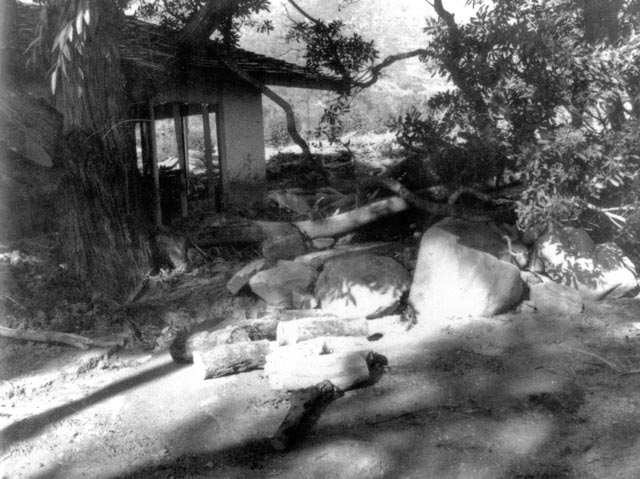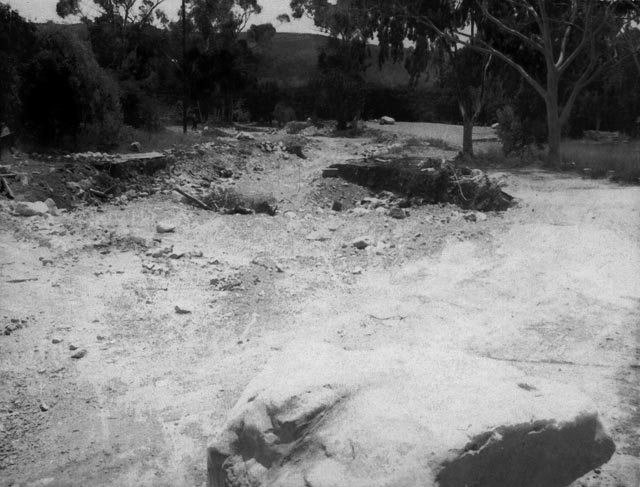 From mom...
I drove a tractor to move things - it was so funny as I almost went over the creek embankment once because I was waving to someone. Ouch! Talk about angels. We got an SBA loan for 3% and lots of income tax returns for 3 years or more? Tom was amazing - he just did it.
eMail comments July 8, 2006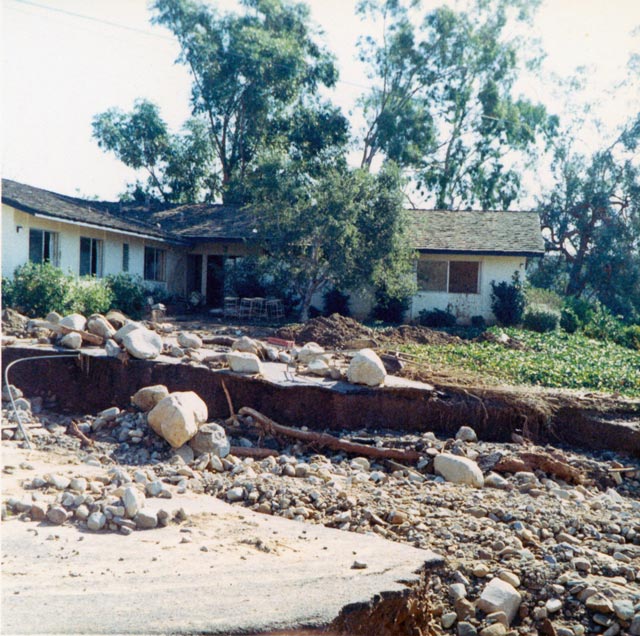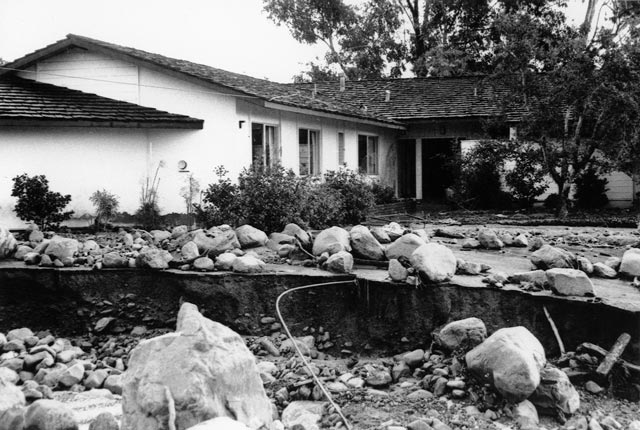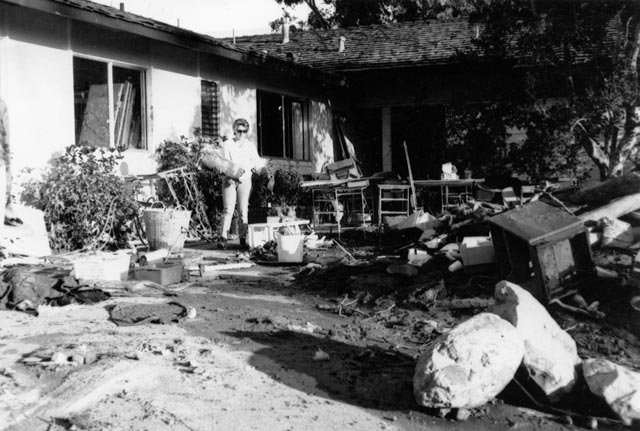 From mom...
Refrigerators floated and so did washers and dryers. Sears, where we had bought our Kenmore Washer and Dryer came out and dug them out, took our freezer from Kenmore totally redid them like new. No charge - which is why I still have Kenmore. Electrolux did the same - we had everything working in June when we moved back in but the rest was new.
eMail comments July 8, 2006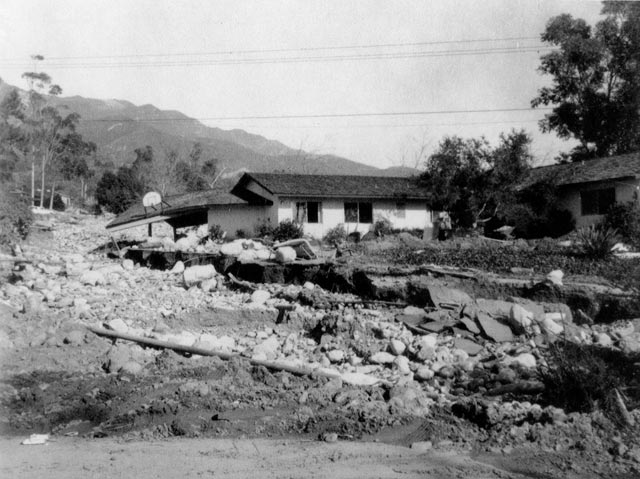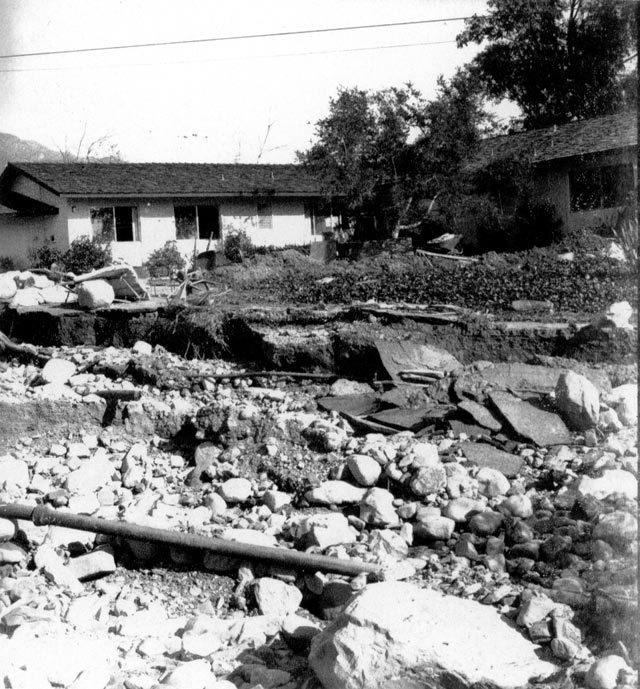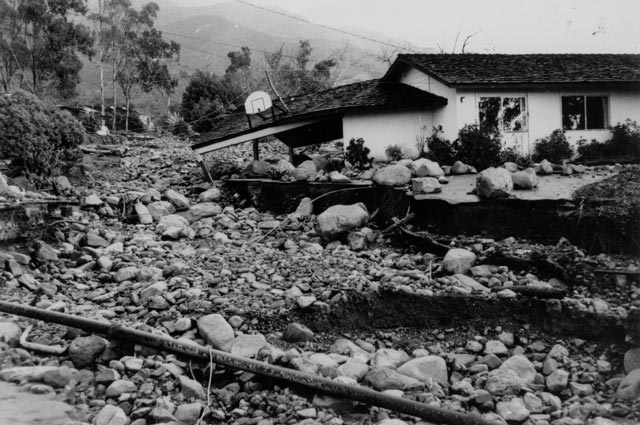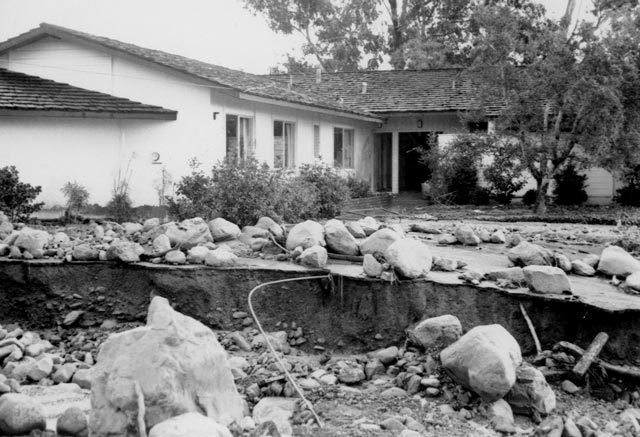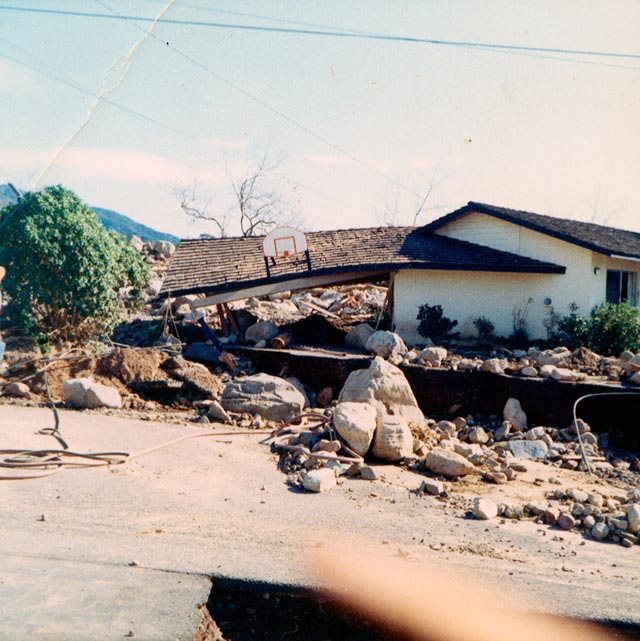 The Flood: Clean Up
From mom...
Amazing to recall it now so many years ago. Tom was a hero as most men said they could not have done it - he had a meeting with two contractors/builders and our attorney one morning right after the flood to talk about the situation and came home to me and said, "We can do it!" I shrugged and agreed.
eMail comments July 8, 2006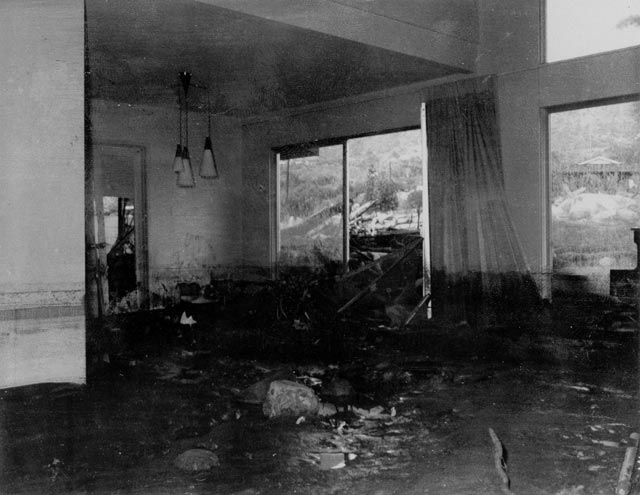 From mom...
Most of all of our clothes were lost as the mud pulled the clothing down from the closet rods and the mud and water totally soiled everything. Shoes on the floor were all gone - anything below your waist was a gonner.
eMail comments July 8, 2006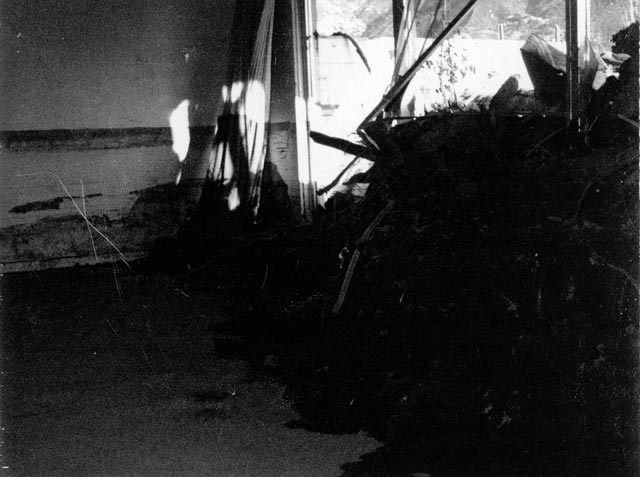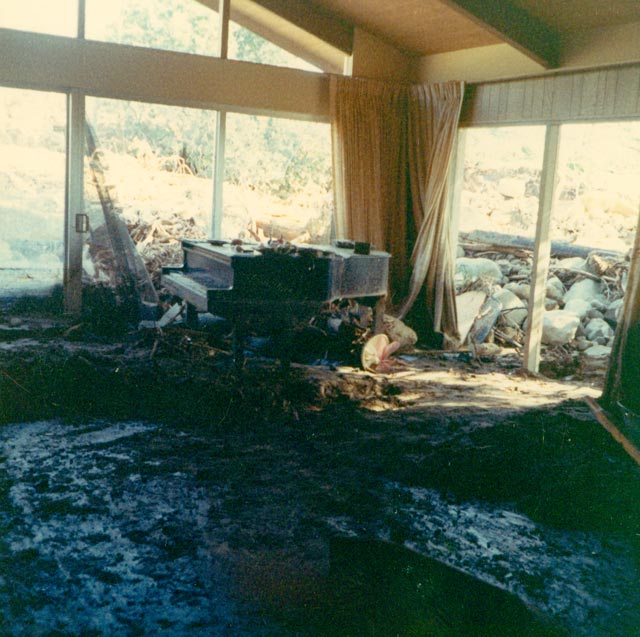 From mom...
We lost the beautiful wooden floors but put carpeting everywhere - including baths and kitchen. It looked great and the house was dryed out.
eMail comments July 8, 2006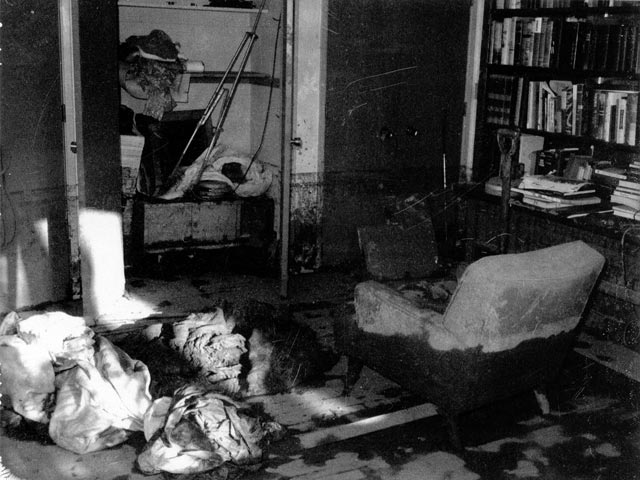 From mom...
Very little of the furniture made it but the great sofas were sent to a drying room and redone and we had them until we moved in here. Best sofas I have ever owned - before or after the flood. We had the yellow chair and it was covered black and is in the family room here.
eMail comments July 8, 2006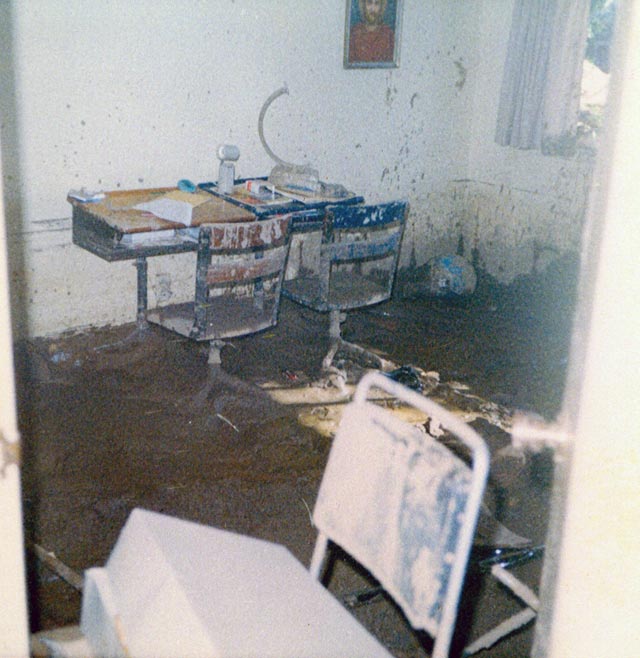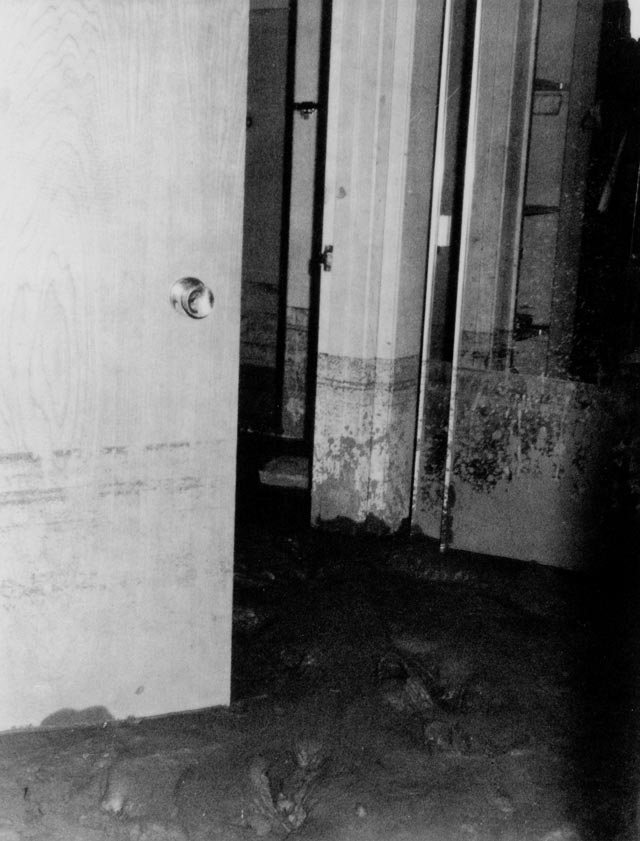 Mom and dad's bedroom leading to their bathroom.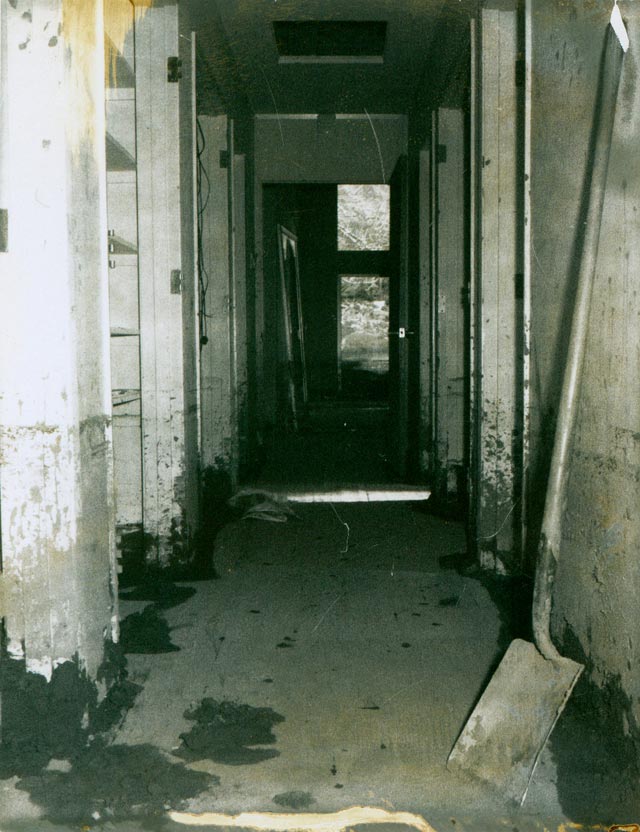 Looking down the hallway to the living room.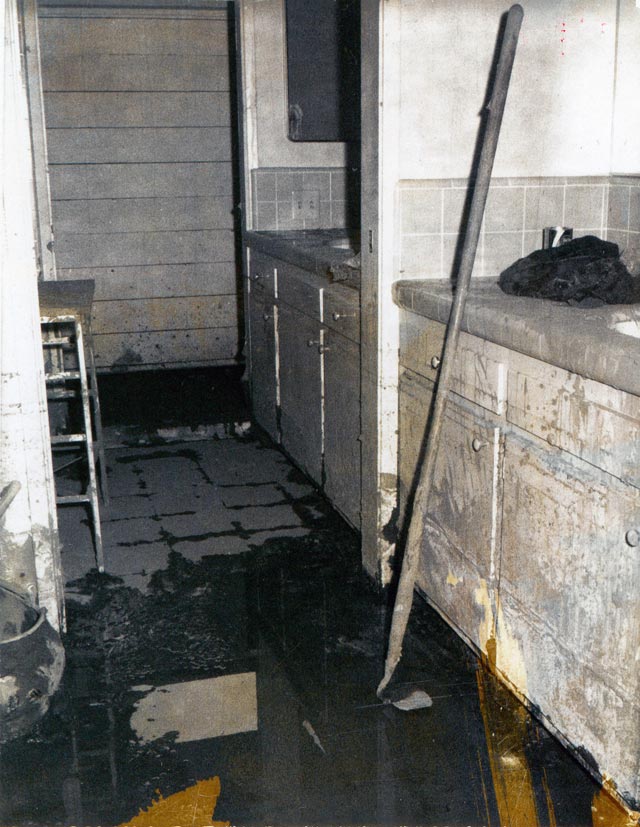 Front bathroom leading out into the planter.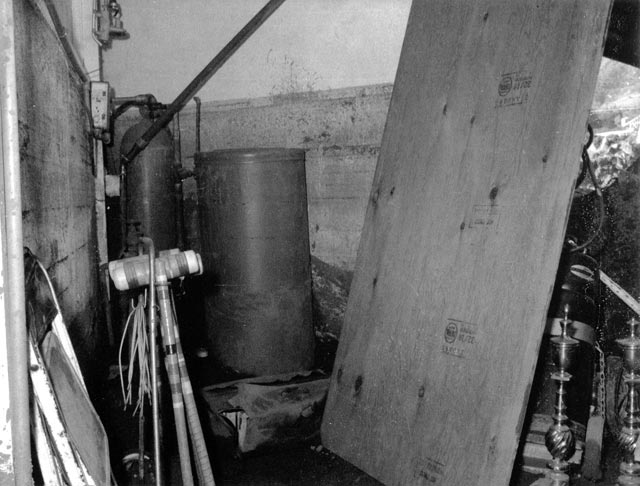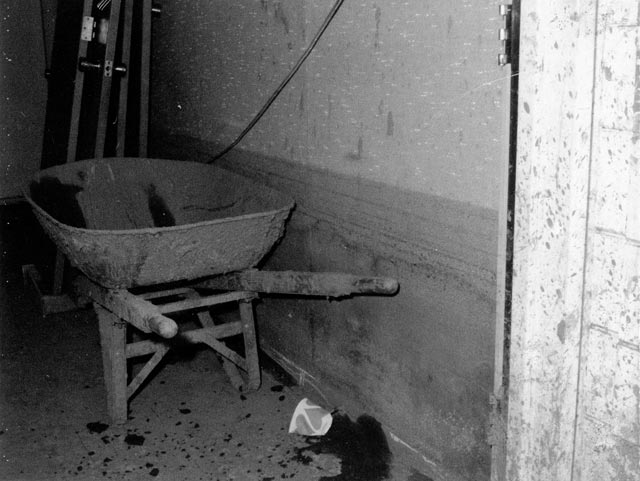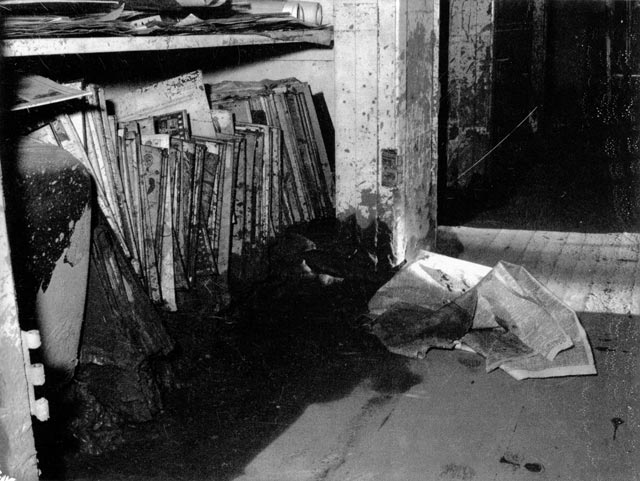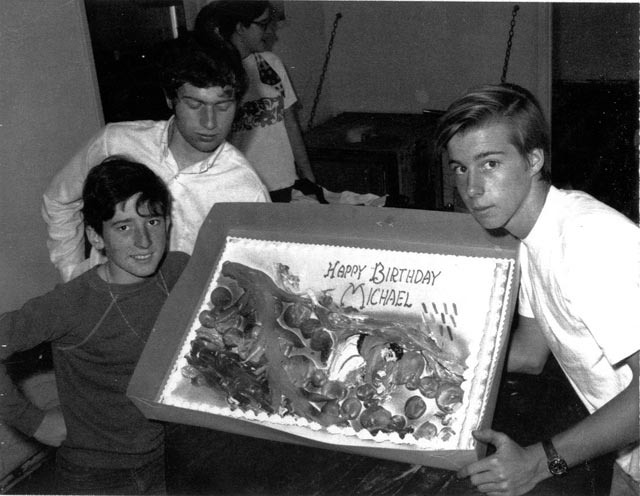 From mom...
It was such an adventure. It made our boys men overnight. They all rallied, from 2 to 16. Seriously, it was like that. I never heard a whine for what they lost.
eMail comments July 8, 2006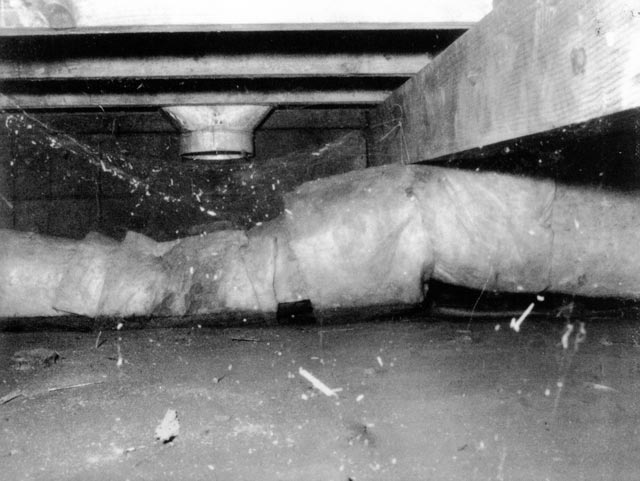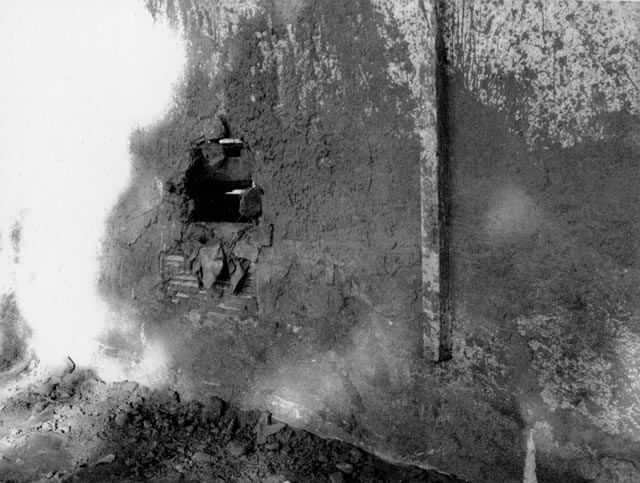 From mom...
Remembering we had 7 sons then - Jon (just 2 1/2) worked like a trouper grabbing Legos with Chris (just 6) to be washed and washed. When the holes in the walls were broken to let the water out to save the structure of the home, we had a lot of Lego boxes ( in little plastic divider containers placed in the boxes the legos came in) and the legos came out by the thousands. Thousands were under our bed in our room where they played a lot) All red, white, blue and yellow. Such a fun memory -
eMail comments July 8, 2006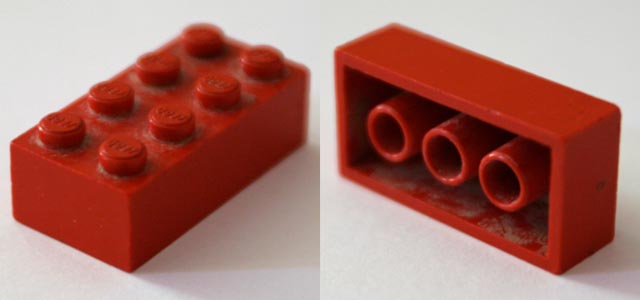 July 10, 2006 - we STILL own many muddy legos.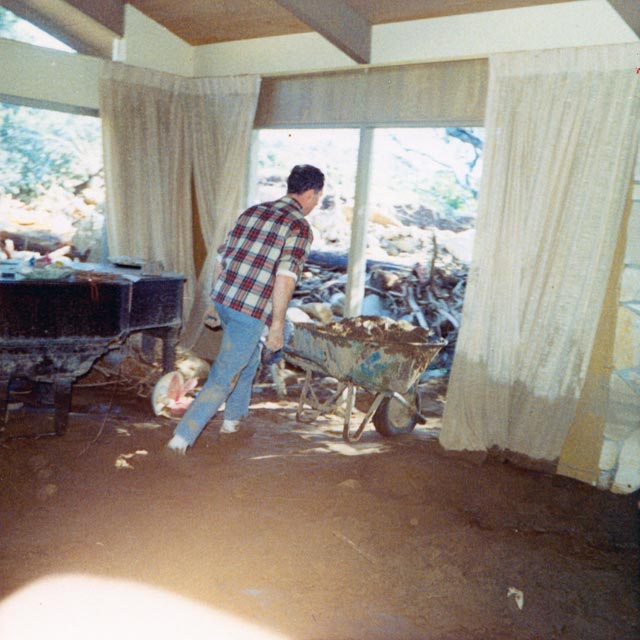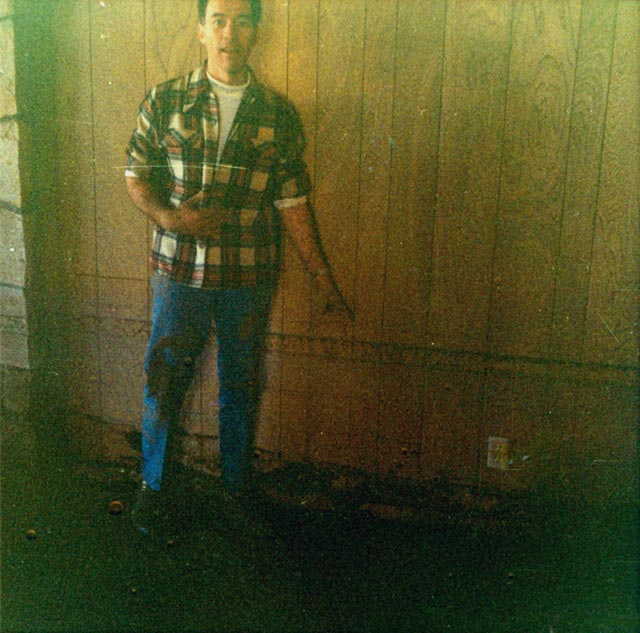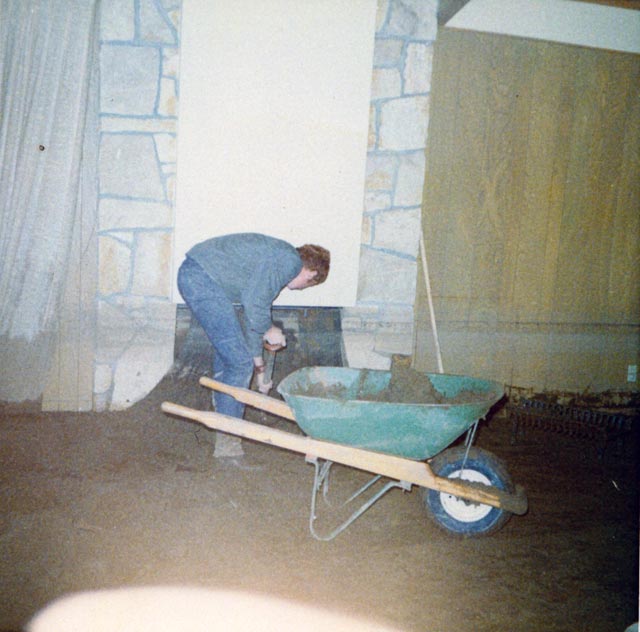 After the flood, the county built up the bank to prevent further overflows. Thoussands of pounds of the rocks and bolders that came down the creek were stacked up and covered with concrete.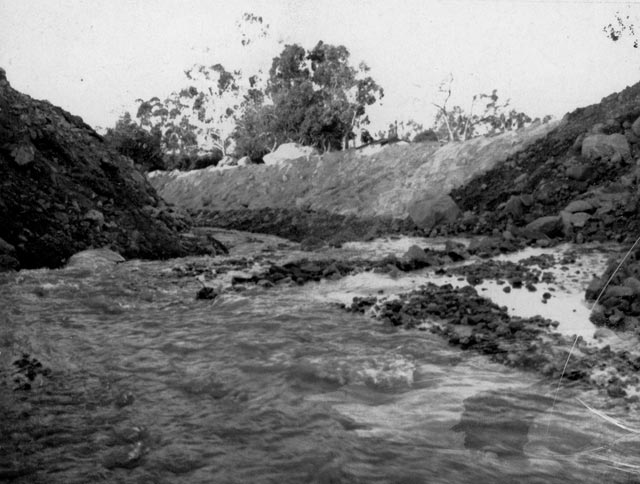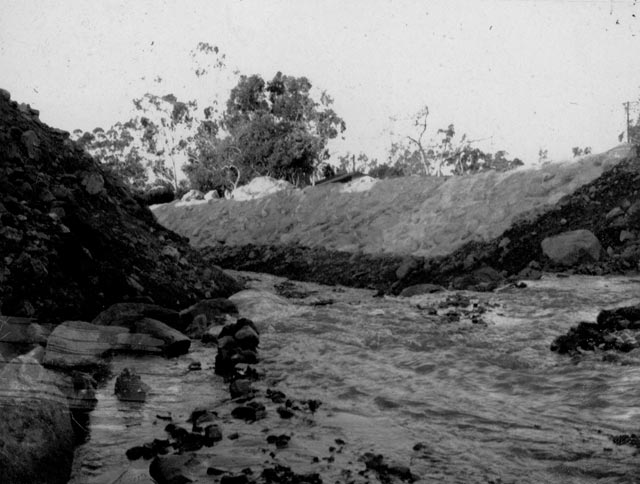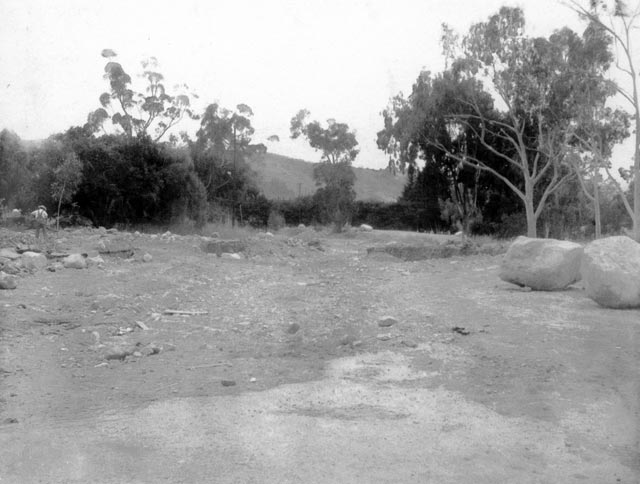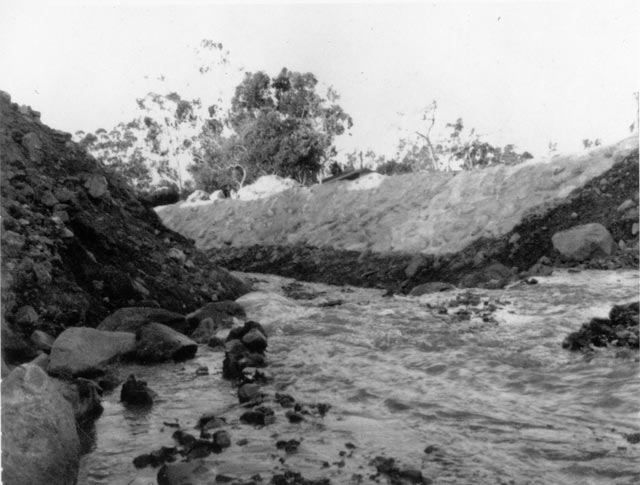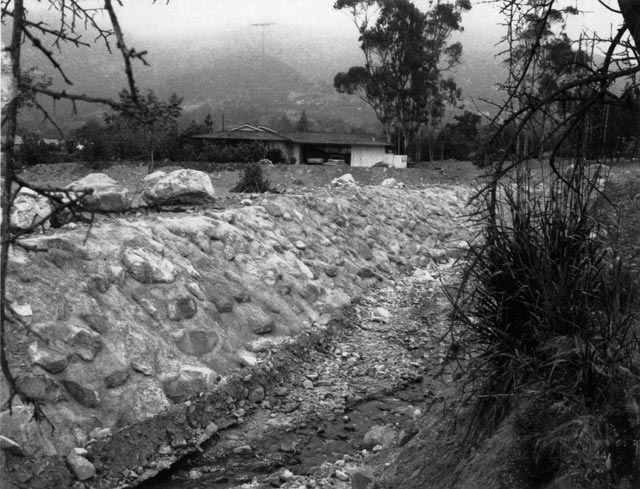 From mom...
Christmas 1969 was glorious. The kids loved it and our tree ornaments were stored high and dry so we still have some of them yet today!!!! Tom gave me a new sewing machine to replace my little Singer Featherweight that I still miss - but never whined. Lost so many pictures of the children and things of Ted [first husband] and Charlie [deceased infant] - guest books, remembrances, they were just gone, but it was okay. I had saved almost every thing the children had brought home from school to give me or just pictures they had made. I jokingly said, "Had we not had the flood, we would have been buried alive in children's artwork." Six of one and half a dozen of the other. We started over with pictures on the refrigerator. Smile. God is Good - no, God is Great!
eMail comments July 8, 2006
---
Responses...
Tim... (number 4 of 7 boys)
Enjoy is a subjective work. But, what a TRIP down memory lane. After looking at these pictures I am still kind of amazed that Dad and the clan was able to get that wreck back into shape. At the time I thought for sure that we would have to bulldoze the entire house (and if this happened in 2006, I'm pretty sure that's what someone would probably do). But this was 1969, and for dad that wasn't an option.
I think they bought this high priced rancher for about $60K (a lot of money in those days [1963]), and the flood just about made it worthless. Consider the "land" value after the flood -- who in their right mind would even consider buying in that neighborhood?
And in those days, you didn't just file for bankruptcy -- at least dad wouldn't. You made good on your debt. Things were just different then.
So we rebuilt that joint. Amazing. And we actually moved back in less than 6 months (but the house was rough). 1969 was one of my fondest Summers. I loved the house when all we had was plywood floors. I was so sad when mom finally got new carpets in the Fall.
Also, one would be remiss if one did not mention Bart Mattmiller. He was a guardian angel, to be sure. He was always there, ready to work. What an encourager. I learned so much about encouraging from him.
I used to think, man, he must have a pretty lousy home life to want to leave his house and come over the 2281 Featherhill Road every weekend. Hey, I was 12 years old. That's how a 12 year old thinks (just watch an episode of Leave It To Beaver and see what I mean).
Chris, thanks for the photos.
I guess I did enjoy them after all. After I got over the shock!
Tim
---
I think we paid just under $60,000 but it was a big amount in those days!!! Today the same house is selling, complete with mud in the cracks somewhere, be sure of that, for about $4 million. We walked away without any cash but we managed to keep a $30,000 loan on it and brought it to 452 Hillcrest [in San Mateo] and paid $75,000 for that and sold it for $750,000 in 1988. Think of that? Besides that? We were a great witness to others for our attitude. It was a good year - and I am so glad Dad did not die during that time. His last [bank] deposit was $75,000 on the Friday before he left [passed away] - enough to have bought the Featherhill home in 1963 and then some.
---
The House today...
Back in 2003 or so, Beth and I were in Santa Barbara on a short vacation, we drove up to the old house to look around, while taking photos of the front a woman, the new owner, drove up and wanted to know what we were doing.
"Oh, I'm sorry, I bet this looks kind of wierd, I use to live here as a kid."

"Oh, did you buy the house from the Sears" (they bought the house from us in 1972)

"No, actually we lived here before the Sears family did, they bought the house from us."

She says, "That couldn't be the Sears were the first person to live here, they build the house."
Oh did she have a LOT to learn about 2281 Feather Hill Road.
She ended up inviting us in and for the next 45 minutes or so I walked her thru the house and yard and showed her all the things that were not original and told her about "The Flood". She of course was SURE that all the bay windows throughout the place were original, I never got her to change her mind on that one but at least when we left she believed that I HAD INDEED lived in that house before the Sears family.