Day 6 - Trains and Koalas and Roos oh my!
Sunday November 24
What can I tell you, I LOVED sleeping on the train, BETH hated it. Or, more accurately, she claims she didn't sleep at all. After gathering our things we exited the train only to find ourselves in a new city, a new state, a new climate, AND a new time zone. Queesland, where Brisbane is, doesn't honor Day Light Savings time, I think it has to do with how hot the days get but that could be wrong, basically I don't know.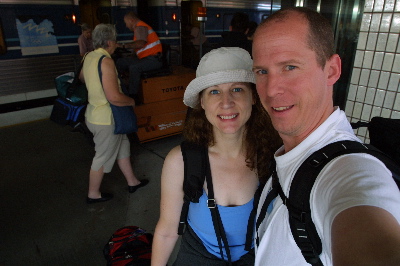 Next we had to find our hotel. Although we knew the street address and it looked to be about a block and a half away from the train station there was actually a BIG hill between here and there. So we huffed up the hill and arrived at the hotel WAY before check in. Drop off bags, catch the Sunday brunch and off for our next adventure.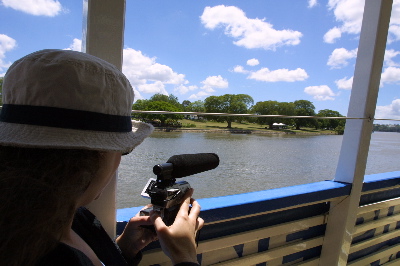 Beth wanted to hold a Koala so she found a park that allows that and instead of taking a cab or a bus she found a boat charter to take us up the river, (maybe it was down the river) for 90 minutes to Lone Pine Koala Sanctuary.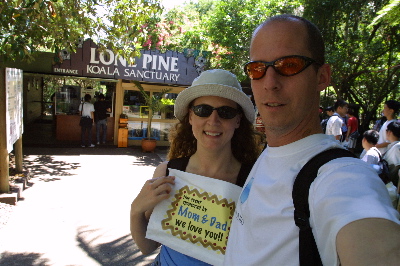 The ride was very refreshing and relaxing, I basically just chilled out and listened to my iPod, (thanks again everyone).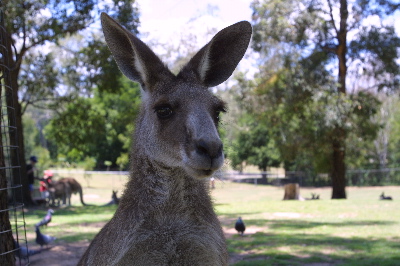 As you enter the park one of the first things you come across is a Kangaroo petting area. It was wild, basically you just let yourself in and, with no instruction and, as far as I could tell, no supervision you walk into a big field and walk right up to the Roos and pet them or feed them. (They did have food available for them.)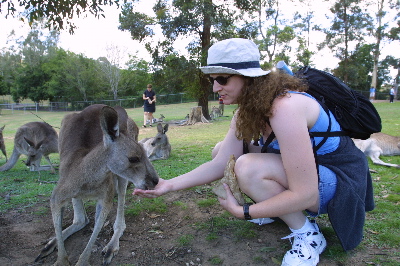 I kept thinking that if this was in the States how much different it would be with more rules and regulations and possibly an insurance waiver. The roos were really cool and yes, the locals call them Roos, I'm not just trying to sound cool.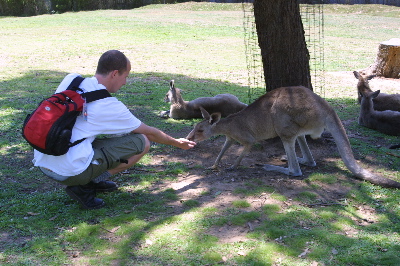 Then it was off to have Beth's picture, or "piccy" as the Australians say, taken with a Koala. After the experience I asked Beth if it was what she expected and the main thing she commented on was, "It kind of smelled".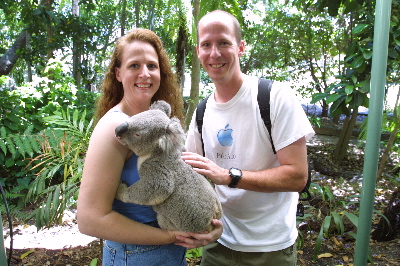 On our way back to the hotel from where the boat dropped us off we found a mall that is close by, no doubt we will be returning there a few times. This is where I bought a hat to cover my bald head from the sun.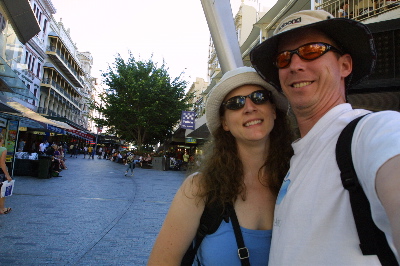 A word about the sun. In Brisbane we are roughly equivalent to being in north Mexico in terms of "distance from the Equator". As we get to Hamilton Island, our next destination, we will cross north of the Tropic of Capricorn. If you get out a map you will see that the Tropic of Cancer, the Tropic of Capricorn's Northern Hemisphere cousin crosses Mexico right about where The Cabo Wabo Cantina is located. If you don't know where that is ask Dan Handa.
(It turns out that Hamilton Island is at roughly the same latitude in the southern hemisphere as Honolulu is in the northern hemisphere.)
Metro Central Community Church
Knowing that our first day in Brisbane would be a Sunday Beth had done a bit of research to try and find a church that was similar to Fully Alive so that we could actually "GO" to church and not have to do any work. She found Metro Central.
Metro Central is a small community church that is only 2 years old. We had been noticing that there were tons of buildings available for lease in both Sydney and here is Brisbane. Metro Central meets in an old theater that is a historical landmark. The significance of this is that by law it MUST stay a theater. Although the owner is not a Christian he LOVES what the gang has done fixing up the old Princess Theater.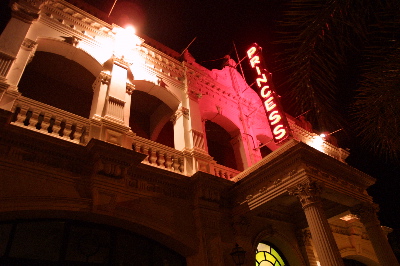 It is a beautiful building. Really cool. They have a real proscenium, with a large backstage area to do full on dramatic productions. They have created a small cafe and there is a sofa area back in one corner. The walls are all exposed brick and there are a few columns on the walls.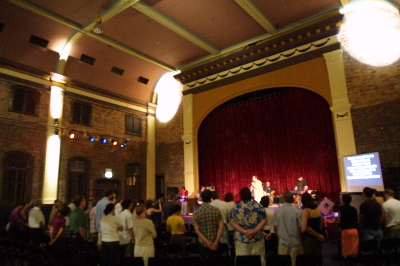 The church is obviously a spin off or a plant from another church because several of the people we spoke to mentioned, "our old church". We had a chance to sit down with a few of them afterwards and share some technical ideas as well as tell them a bit about Fully Alive. It was cool. Beth mentioned how awesome it was to be literally half way around the world and be with a group of people that worship the same God. Pretty amazing if you think of it.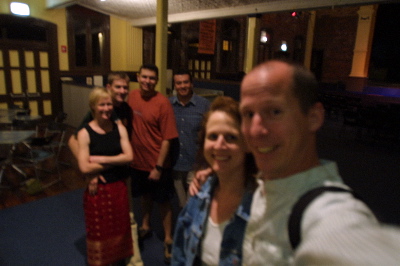 Sorry this photo is out of focus, I screwed it up.
Delia, Steve?, Martin and Mark, oh yea and Ian from Canada left earlier. Thanks for spending time with us and thank you Mark for the ride back to our hotel.