Day 13 - Hangin' with the Locals
Sunday December 1

Today was the most special adventure of our trip. Special because no amount of money could purchase it. On Friday night as we were walking past the marina in town we ran into Graham and Byron again. Graham asked us what we were doing on Sunday and we said we were considering taking the Sunset Dinner Cruise. He responded with, "Well, I got something for you that is MUCH better then a dinner cruise".
Graham tells no lies.
He proceeded to invite us on a day cruise on his private yacht. We would spend the day with a group of his friends that are locals on the island. Of course we said yes, and we had NO IDEA what kind of boat he had.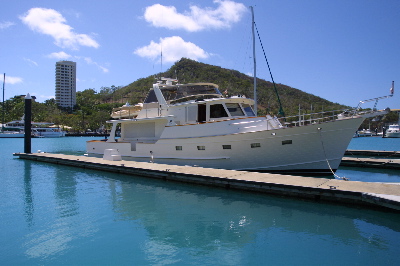 The Redmond Ross
Graham is the proud owner of a Flemming 55" yacht. We were shocked as we walked around the corner and first laid eyes on the vessel.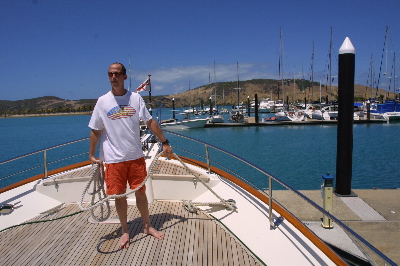 Chris can never resist the urge to pick up something and coil it.
Besides myself and Beth and Byron Stringer, who appeared to act as Graham's first mate, he had invited a select group of island locals. There was Geoff, the one time Hamilton Island local who was visiting from New Zealand, Lynne, the owner of the local Ice Cream Parlor, and her two teenage girls, 17 year old Amanda and her younger sister Katherine, Kate and Mike and their 13 year old son Jessie, and James the one time owner of the local Realty company on the Island.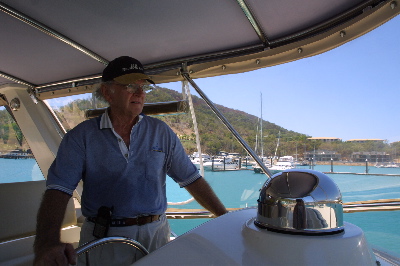 Graham at the helm of the fly bridge on the Redmond Ross.
We traveled to Shaw Island which is 20 KM south of Hamilton Island and dropped anchor in Roberta Cove.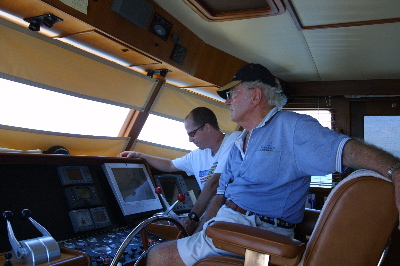 Although ran from a PC, this program was cool.
We could plot our course and see exactly where we were at any time.
As usual I think that there were times when I dominated the conversation but it was fascinating to share and learn about Australia from a group of locals. People will speak much more freely when they are among friends so in this situation I think I got to hear a more pure Australian viewpoint on many topics.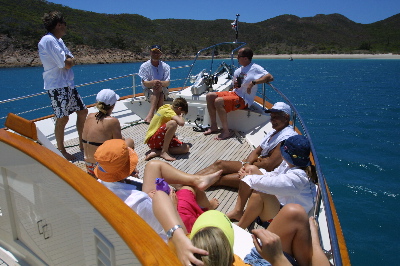 There was more then one occasion when I felt as though I was completely dominating
the conversation but everyone was gracious and I think we all had a good time.
I was amazed that Jessie, the 13 year old boy knew all about the George W. - Al Gore fiasco during our last presidential election and I only learned who the Prime Minister of Australia was while we were here. It was another eye opener as to how little we, as Americans, know about the world we live in.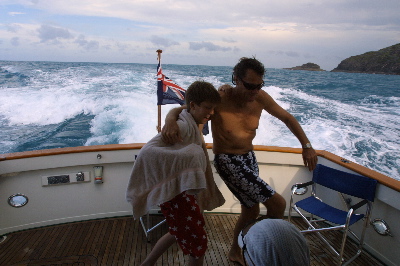 Mike and Jesse dancing a little jig for our amusement.
We swam and talked and ate and I even talked Jessie into jumping off the top deck of the Redmond Ross with me. (I hope that was not to rude of me Graham).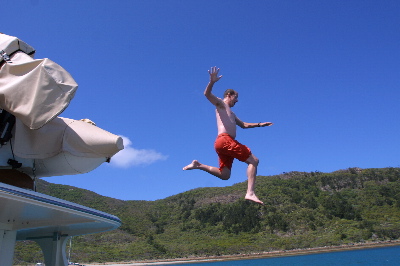 The water was wonderful again although Beth chose to stay out of the sun today because she was feeling a bit "crispy" from the reef yesterday.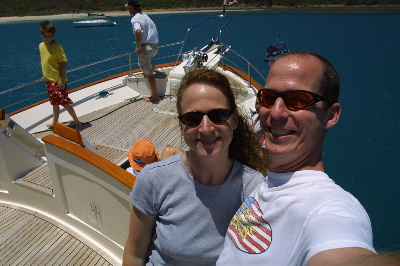 Eventually it was time to pull up anchor and head home. Although Beth was not feeling great due to the rough seas she held in there and was a trooper. We circumnavigated Shaw and Lindeman Islands and headed back to the marina on Hamilton Island. It was very muggy and no wonder, there was some thunder and lightning in the distance and by the time we arrived back at Hamilton there was even a bit of rain.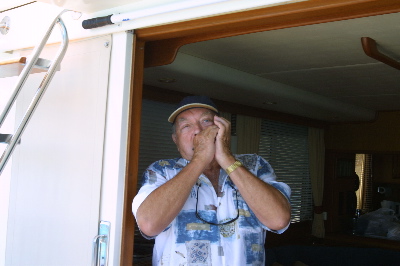 James, the ex-realtor, entertained everyone with "Moon River" and "Somewhere Over the Rainbow" on his harmonica. I thought it strange that he didn't whip up some "Waltzing Matilda" for us.
As a testament to how special a day this was we had two separate staff members from our hotel tell us that they have NEVER heard of a tourist getting so lucky as to be invited on anything even remotely similar to what we had experienced today.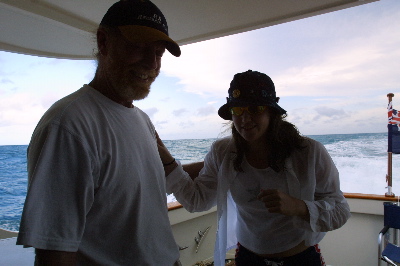 Katherine, the younger daughter of Lynne, reminded Beth and I of Fay Johnson.
To say it was a delight would be an understatement. Total cost to us, one bottle of Graham's favorite wine. We made sure to go to one of the restaurants that he eats at all the time to ask what he liked to drink. Although we don't know what Bin 444 is, apparently it's a very nice bottle of wine.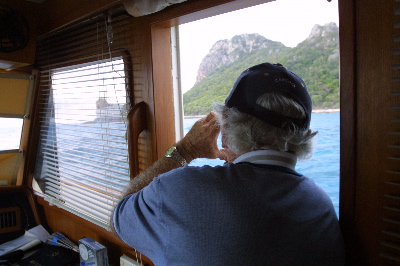 Graham the Captain trying to get the ultimate photo of the indian head on the north end of one of the islands we cruised past. I was much more interested in getting a shot of Graham trying to get his photo.
As we walked away from the dock at the end of the day Beth and I were recounting the days events in total amazement. She said that on this occasion the Fenwick gene of talkativeness had really paid off.
Tomorrow morning we head of on our REAL adventure. Our trek thru the Outback to see the Solar Eclipse.