Day 12 - Great Barrier Reef on Beth's Birthday
Saturday November 30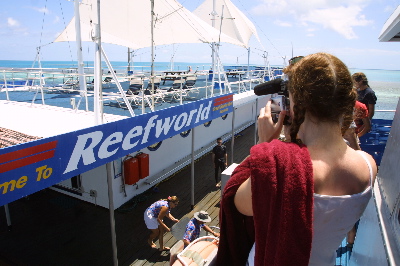 Happy Birthday Beth! When we arrived at Reef World our first order of business was to get over the fact that it sounded like a bad Kevin Costner movie title. After that, we had to find a place to stow all our camera gear. We had called ahead and was informed that there was lockers however, we never found them. I was a bit uneasy about leaving the cameras in a tiny backpack just sitting on the deck but that was all we could do.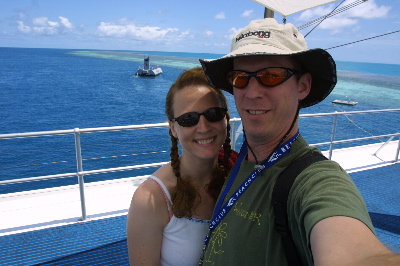 The Great Barrier Reef is over 1200 miles long it is the largest living organism in the world and it is visible from outer space.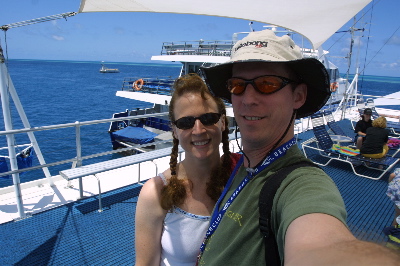 Off to snorkel the reef. The water was a bit colder then at our beach but it always is when it is deeper. Reef World is located about 75 KM out to sea. I'm still not sure how far that is but you can't see any land fall from where we were. (Update... 46 miles) It is basically a floating dock that has a few small buildings on it. The crew live there for 10 days then they get 4 days off the rig. That may explain the demeaner of some of the dive instructors.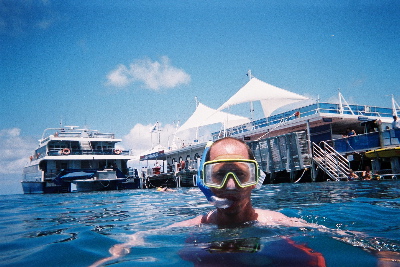 For snorkeling you are on your own. You grab some fins and mask and snorkel and just walk down the stairs and hop in.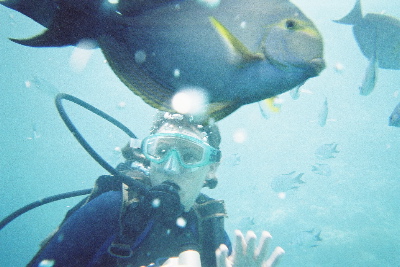 Beth wanted to go scuba diving. Of course the scuba instruction was much more involved. It began with a 30 minute "class" on the ride out and then a quiz. However, once you got there and your dive time came up it felt more like a factory assembly line.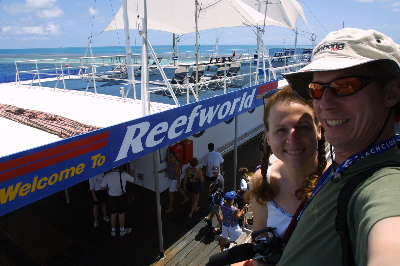 Put this on, sit hear, let me buckle you up, follow me, don't bump your head, watch that last step, stand over there, hold this rail, put your head in the water, blow bubbles. It was all a bit too fast for me. I think what was happening was that, since I'm a real control freak I like to know EVERYTHING and I was feeling a bit uncomfortable. Given the cursory nature of the training I could tell that there was quite a bit I DID NOT fully understand.
By the time I was sitting on the edge of the dive pool with my feet hanging over the edge into the Pacific Ocean I started to panic. Then when Simon the grumpy "I've been out here far too many days" dive instructor yanked my fins off the edge and told me to hold onto the "training wheels of scuba diving", the guide line, I started to hyper-ventilate. I came very close to turning around and going back up. Actually I would have but I couldn't get any of the dive instructors attention because 4 other people in our group of 9 were panicing just like me.
I looked at Beth, shook my head, pointed up and then at her and made the "OK" sign and tried to signal her to go on. Instead she just reached over and patted my hand to say, "it's ok honey, I'll be right here". Not that her immense diving experience was going to help me out in a panic situation but I realized that this was really important for her to do on her birthday. So I tried to calm down and continue.
Once we got out from under "Reef World" I felt much better. I never really appreciated the scenery because I was more concentrating on my breathing and staring at my oxygen gauge, (there I go, holding on to technology again). Beth on the other hand LOVED it. She thought it was amazing. All the things you hear people say, the colors, the fish, everything, she loved it all.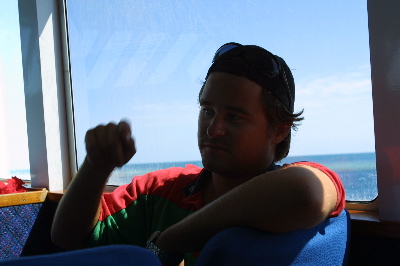 Of course we met some interesting people. There was Tim the professional photographer who was working on the trip taking pics of all of us tourists. It was weird being the one who was being photographed.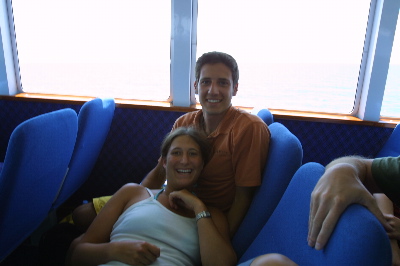 We also met David and Katie from Chicago. Although they live 15 minutes from each other in Chicago they met on Bondi Beach. Katie was waitressing and David has been on the road for over a year. Katie took a liking to my iPod and David the self-proclaimed techno junkie had never heard of it. Apparently he has been traveling a bit too long.
All in all Beth says she had a wonderful birthday and she REALLY enjoyed the sights at the Reef.