Day 9 - Travel to Paradise (in the back row of a 737)
Wednesday November 27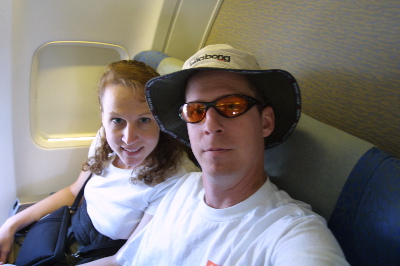 Amazingly enough. even though we booked 3 months ago we STILL had to sit in the back of the plane where you can't recline your seat. Luckily it was only a 1:30 flight.
Once again we have a travel day but this day will be the first time we get on an airplane since we arrived in Australia. We got up early and negotiated our way from our hotel on the hill in Brisbane down to the Roma St. train station and took a City Rail out to the domestic airport which, up until very recently, was entirely operated by Qantas. Qantas' monopoly in Australia is part of the reason why so many Aussies don't travel by plane. It's just too expensive.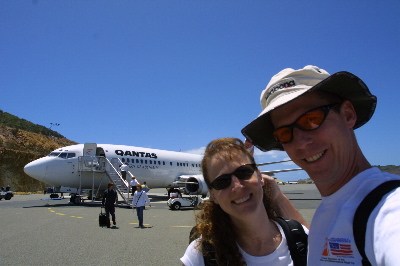 Hamilton Island, our next destination is about 1:30 mins north of Brisbane by air. It's a good long way AND it is NORTH of the Tropic of Capricorn by a fair bit. So, once again, in Northern Hemisphere terms it is like going SOUTH of the Cabo Wabo Cantina (Cabo San Lucas, Mexico) and don't forget, it's late spring or early summer here. (Yes, they DO have Christmas at the beginning of summer. Try a Google search for Christmas and Bondi Beach, you will come across photos of blokes wearing Santa Hats in swim trucks.)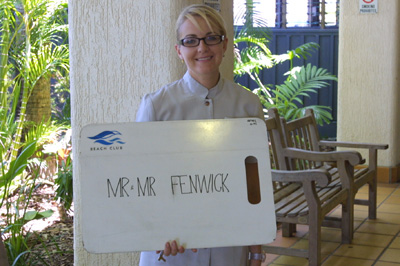 The sign says, "Mr. and Mr. Fenwick"... oh well.
Beth shot a bit of video as we flew into the island, it was pretty impressive. What I thought was interesting is that, even though this is a beautiful island, having seen it from the air, it pales in comparison to some of the uninhabited surrounding islands. Much of the island does not feel tropical like you may think it would be, but the weather is wonderful and the water is amazingly blue. (In all fairness - the locals have informed us that most of Australia has been experiencing a horrible drought. Hamilton Island is usually a lot more green then we have seen.)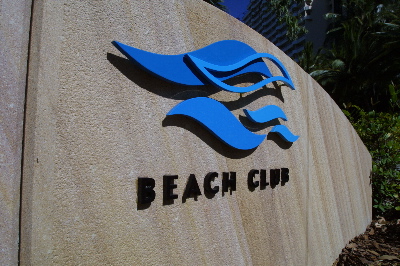 Once again we arrived way too early to get into our room so we dropped off our bags and went for a walk into "town", if you can call it that. Hamiltion Island is apparently owned mostly by one company and apparently you can go anywhere in town and sign it to your room. We didn't try this but no doubt will take advantage of that convenience.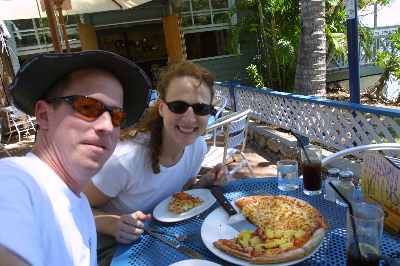 We found a little place on the marina that had the greatest pizza, maybe better then the pizza we had in "The Rocks" in Sydney. We also met a couple of locals who live year round on the island. Graham and Byron were very interested in the mindset of a tourist in the post September 11 era. We talked a lot about politics and the world. Graham shared his idea of getting both political and religious leaders together to try to bring people to a common ground. He was interesting and I hope we can run into him again while we are here.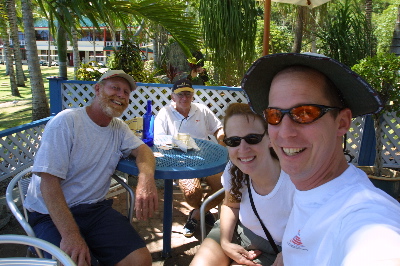 Byron, Graham, and us at Manta Ray Cafe
(left to right).
After lunch we went for a walk and were amazed at the wild Cockatoos that were flying around town. In the States a bird like this would probably cost you $1000 if you wanted to buy one for a pet.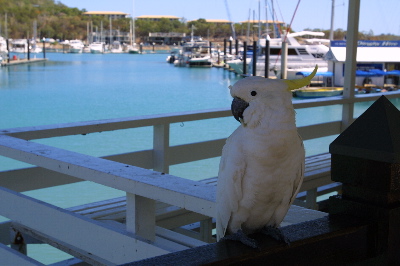 We finally got into our room and oh my! It is the hippest room we have ever had. Very cool decor and the coolest location. Our room is EXACTLY on the center line of the "infinite pool" in the resort. We are one level above the pool and have a full on view of the Pacific Ocean and the pool and the beach. Very, very cool!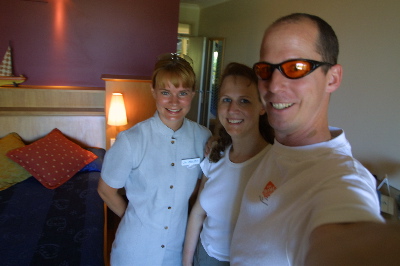 Mirkka was the young woman who finally let us into our room and showed us around. She was very interested in our camera gear and, of course, I took that as an opportunity to go into sales pitch mode for the advantages of shooting digital. She says that she is a bit of a photographer herself dabbling in black and white photography. She says that she has only been on Hamilton Island for 10 weeks and that, although she is from Finland, she has dual citizenship so working in Australia is no problem for her.