Day 15 - 10 Hours Driving thru the Outback
(oh no! you're on the wrong side of the road)
Tuesday December 3

We always knew this would be the "Amazing Race" portion of our vacation and we were right. Today began with a major blunder (which turned out to be fine), Beth's alarm didn't go off and we over slept an hour. It ended up not being a big deal but at the time it felt a lot worse then it was. When we got down to the front desk they had already brought the rental car around it was waiting for us right out front.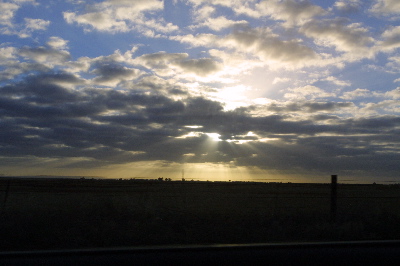 Sunrise over the Yorke Peninsula, north of Adelaide
And we're off. 5:30 AM on the road to Ceduna, at first I was kind of expecting some sort of a freeway on ramp but as it turned out we were just suppose to keep heading up the road we were on. It was very much like El Camino Real in the parts with only 2 lanes each way but no where near as densely populated. After awhile as the stores thinned out it started to feel very much like Highway 1 on the coast. One lane each way, no center divide for the next 500 miles.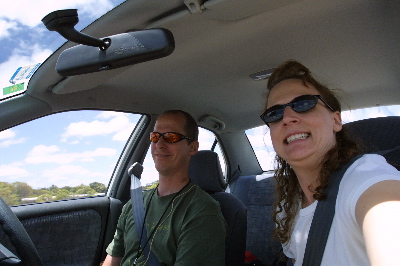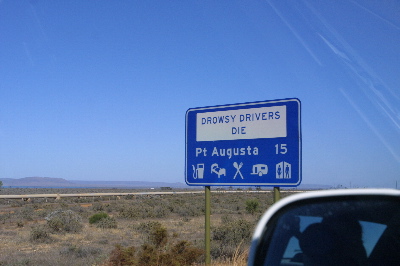 These warnings are everywhere in the Outback region.
Our first stop was in Port Pirie at 7:37am for a quick breakfast at McDonalds, (what can we say, we're creatures of habit). We met these 2 construction workers that somehow knew we were on our way to Ceduna. Many of the locals think that the travelers who have come for the eclipse are kind of mad. The exception to this are the ones that stand to make a huge pile of money off us.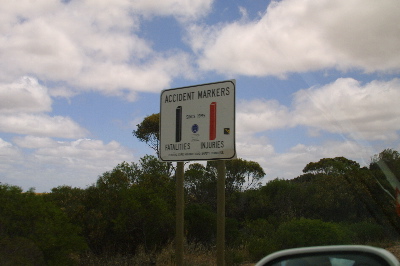 A sobering reminder to the injuries and fatalities on the roads of the Outback.
Accidents are marked on the road with short black and red posts.
As we were leaving the McDonalds the driving fun began again. Pulling out of the driveway I could have sworn that there was one lane each way down the road but in fact it was 2 lanes, a center divide and two more lanes. So, I headed down the wrong side of the divide - there were some street signs that were backward, that should have tipped me off. Talk about shaving a few years off your life. Once we got out to the highway, and I use THAT term loosely I failed to look to the right before merging on the road. A small family in an SUV had to swerve into the dirt and they were REALLY mad. She pulled over about 200 feet down the road like she wanted to get into a fight or something. I just proceeded to drive by with that dumb look on my face that says, "yea, yea, yea, I know, I'm an idiot, and I'm an American, Please forgive me." We never saw them again (luckily).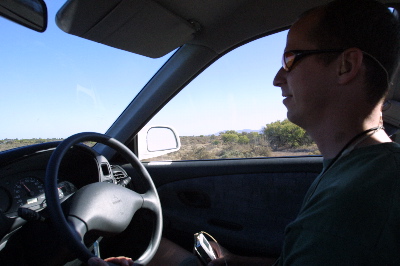 Driving through the Outback, from the "passenger" seat.
Next stop was Port Germein for gas at 8:30am. Tiny little gas station that frankly I would think it was a movie set if I came upon it in the states. A big scruffy guy came out and actually PUMPED my gas for me. It's been a long time since that happened. Again he knew we were headed for Ceduna.
True North?
Then a kind of weird thing happened, I kept checking my compass that I had bought for the trip and no matter how much the road veered it always seemed to be saying we were traveling North East. It took me about an hour to figure it out, but, apparently there was something VERY magnetic in the dash because if Beth held the compass, in the passenger seat (on the left side remember) it would say we were traveling North West. Basically the compass was honing in on the middle of the dash. It's a good thing Captain Cook never had these problems as he was circumnavigating the globe. Oh well. We would just have to depend on the road signs.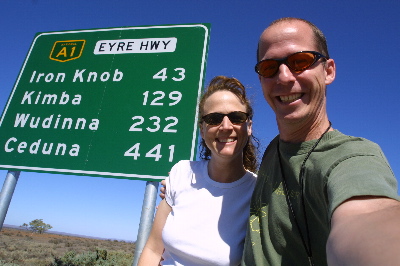 A comprehensive list of all the stops on the Eyre Peninsula.
Kangaroos are a real threat on the roads in the outback. On this 90 km stretch of road we saw at least 6 roo carcasses that had been hit by traffic. It is such a great threat that many of the locals have what I have called, "bush bumpas" (pretend you sound like Steve Irwin when you say that). A bush bumpa is a HUGE over grown bumper that covers the entire front of your car that is make of 2" chrome or steal tubing. Even many of the large trucks have them. It's a reminder of just how much damage a stray roo can caused to your vehicle.
I began to get worried about the amount of driving we had to do on the way back bracketed by two unchangeable factors. One, you can't drive before sunrise because of the Kangaroos, and two, we had to make our plane in Adelaide. Basically we needed to actually MAKE the drive once to see if there was going to be enough daylight for us to make it again.
Some of the other 'towns' on the map that we were looking for were barely pimples on the road as we drove by them. It was sort of scary but we kept on. It was about here that, in the spirit of full disclosure, confessed to Beth that I was beginning to open myself up to the possibility of this hair-brained scheme of mine might NOT work.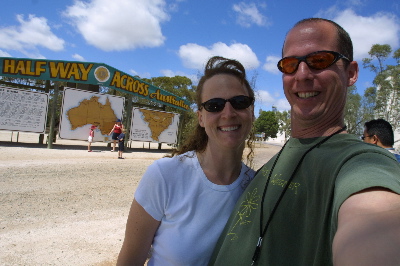 The major attraction in Kimba, the Half Way Point across Australia.
By Kimba I had realized that I couldn't find my headphones. At one point I had remembered them getting too hot on the dash so I had put them on my lap. They must have fallen out of the car at one of the stops we made. I felt really stupid for doing something so lame for loosing such nice headphones and all I could think of was how much Danny and Tom would love the fact that, yes indeed, I DO make mistakes.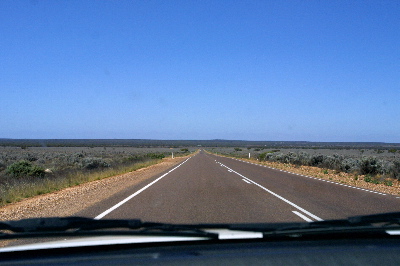 We saw a lot of this today.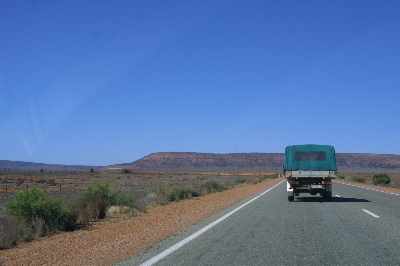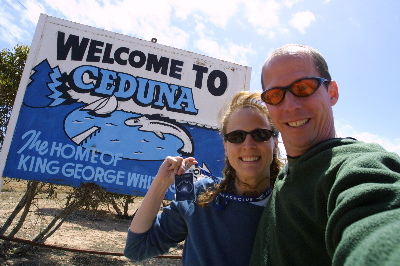 9 1/2 hours and 500 miles later (or 780 km as they would say)
So, where do you go to watch an eclipse? We are camping at the Thevenard Football Club Oval. It's basically a stadium for Football (or Rugby?) that is a few hundred yards from the absolute path of the eclipse. "Stadium" sounds a lot more glamorous then it really is because there is no seating surrounding the field. There is however a pub or tavern that the organizers have secured as a mess hall for everyone to serve meals from. They say there may be over 500 people staying at this site alone.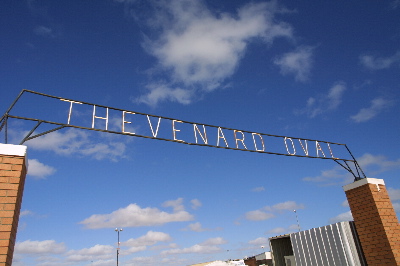 Main entrance to the "Tent City".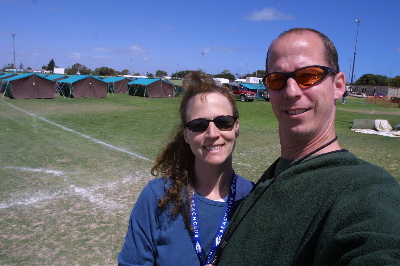 A little scary looking, but we are here.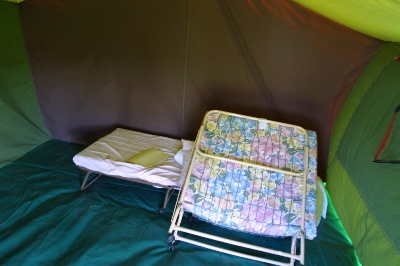 Even scarier looking on the inside of the tent.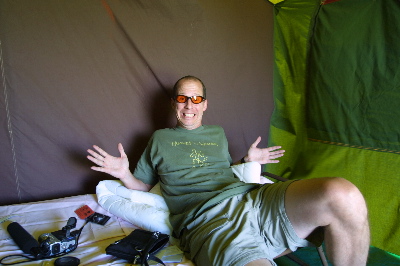 Home sweet home?
David is a local guy who has lived in Ceduna for his entire life. He was hanging out with the security guys outside the Club. He had, without a doubt, the thickest accent that we've heard in all of Australia. He was a cook in the Australian Army for 20 years but there's no telling what he is up to these days. The security guys were trying to give me a brief lesson in cricket. Did you know that a cricket match could last 5 days?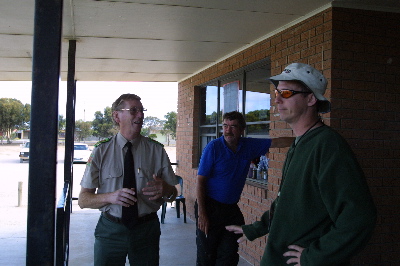 Learning the finer points of Cricket.
Just before dinner we met a couple from Adelaide that were drooling over our eclipse badges but we only have 3 left so I didn't want to give her one yet. Then there was Chris, the Tasmanian Forest Ranger, for lack of a better title. We talked about gun control and how about 4 years ago there was a wacko that killed 39 people in Tasmania. That event sparked a national movement to control firearms. Chris is convinced that what is happening here in Australia is the best way. Me, I'm not so sure. I can listen to both sides of the gun control issue and see how, in many ways, both are correct. Basically there is no black and white in this, at least not in my eyes.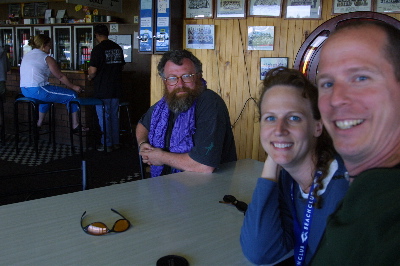 We've never met a Tasmanian we didn't like.
Mike was a British guy who has been to 16 eclipses. He seems to think we are in for a good view tomorrow. I'll tell you what, even though the British sound like the Australians, they are quite a bit ruder.
Bob and Katherine were from Seattle and they are Mac fans, glad to know we aren't the only ones here.
In the evening as we were sitting in the Club having a drink (and sneaking an outlet to charge the iBook) I got to talking with some more of the locals. Brian, Daniel, Soonah, and Harley. I think they were part of the crew that built the tent city. Brian went on and on about how we needed to take about 3 months to travel all of Australia, especially Darwin in the north. He seemed to think that was a must. I ended up giving my one spare Eclipse Badge to Soohah, she thought it was pretty cool.
Tonight we'll have to sleep in the tent. The temperatures are dropping and the wind is constant. Beth didn't sleep well last night in Adelaide, I don't think she is going to do to well tonight. Tomorrow, Eclipse Day, may be a rough day.