Day 14 - Travel to Adelaide
Monday December 2

Today we woke up early and packed for a big day of traveling. What turned out to be more difficult than physically preparing to leave was emotionally preparing to leave. We LOVED Hamilton Island. It was marvelous. A couple of days into the stay we began sitting around and thinking of how we would return.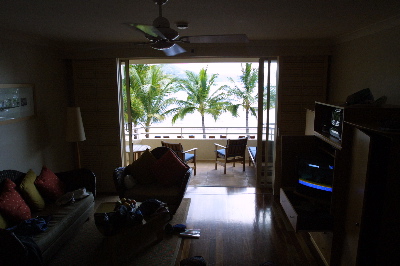 Our first minor snafu of the trip happened at the Hamilton Island Airport. Qantas has a weight limit of carry on luggage of 7 kilos which, amazingly enough is only about 15 pounds. OUCH. Luckily we had planned for this as a possibility and all we had to do was pull the iBook out of my bag and slide Beth's backpack straps into their little hideaway and we could check the big bags. Beth's backpack was 11 kilos and my bag was 12 kilos. We ended up just walking on with our day packs, the iBook, and our cameras in our hands. As they say here, "No worries mate!"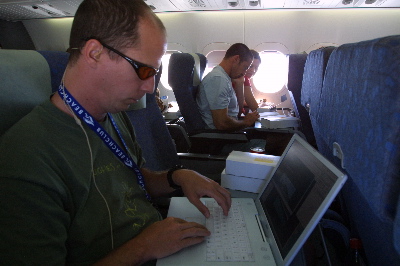 Chris working on the web journal so it will be ready to upload... someday.
The next exciting event was the layover in Sydney. It was interesting flying into Sydney again because we actually recognized places we had been to. Kind of cool actually.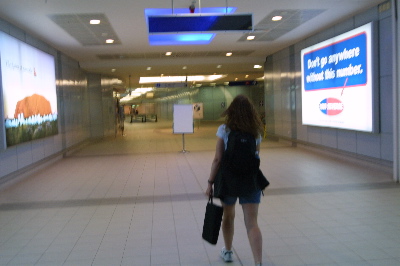 However, once we got to the ground we only had a very short while to change planes AND terminals. Definitely an "Amazing Race" moment. We made the connecting flight after spilling BOTH our drinks at the Burger King that was about 200 feet from our gate.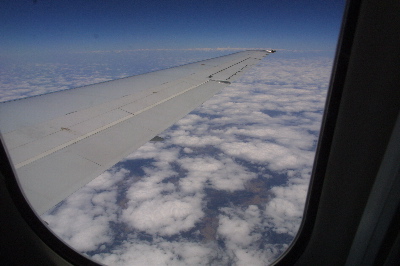 Trust me, that's Australia down there.
Then we land in Adelaide. Much smaller airport. Feels about like the old terminal at San Jose. We get our rental car and then the fun begins. First, they drive on the bloody wrong side of the road. They sit on the wrong side of the car to drive and they've put the turn signal where the wiper controls are suppose to be. It sucks... just 5 minutes into the first time at the wheel and I have a raging headache. You have to UNLEARN everything that has become natural in the past 24 years behind the wheel. At least they have the break and the gas in the right place.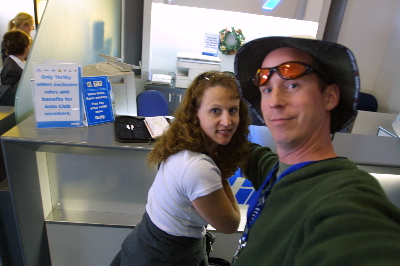 Then we wanted to get a cell phone, or "mobile" as they call it, but we only had about 40 minutes to find the dealer and do the transaction because EVERYTHING closes so early in Australia. The girls at the car rental place told us where the right part of town to go would be but it was very much like downtown San Francisco, a lot of one way streets, as if driving on the wrong side of the road wasn't hard enough. With less then an hour to park and shop and get a phone we decide to pull one of our tricks out of our bag.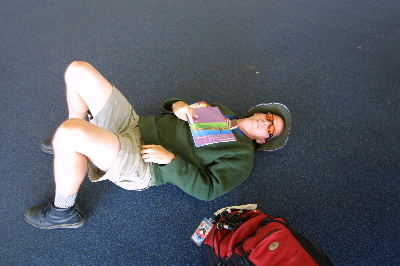 Feeling a bit weary.
We decide to drop Beth off at one end of the Rundle Mall, which appeared to be about 2 blocks long and I would drive to the other side of the mall and pick her up there. To be safe, we would use the 2-way radios I had bought for the trip. So prepared I could be a Boy Scout. We had already resigned ourselves to always have them with us so Beth just grabbed her day bag and bailed out of the car. In "Amazing Race" terms she was off on a "Road Block", a challenge that only one of the partners has to complete on their own.
Let me just say that without the radios we would have been screwed.
In the 30 minutes that I was by myself in the car I almost had 2 accidents. One was backing into traffic and not looking the right way, the other was making a right hand turn into on coming traffic. It all makes you feel so stupid.
The radios, however, allowed us to find each other very quickly and then we were off to our hotel. Once we got to the hotel we contemplated bailing on it and driving for a few hours to get a jump on tomorrow but when we found that it was a bit harder to cancel our prepaid room we decided to just stay in Adelaide and a good thing we did.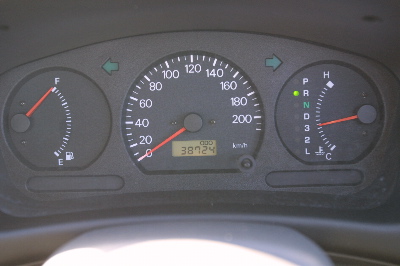 38742 Kilometers at the beginning of the trip.
As I went out to find a place near by to eat I realized that I had committed the cardinal sin of a worldwide traveler. I had misplaced my Passport. Actually I knew exactly where it was, it was with the girls at the car rental desk. They had asked for it but never returned it to me. I panic, big time. I ran up to get Beth who was settling into the room and we quickly called Thrifty (the rental company) and yes, they had the Passport. No worries, we could go get it but it would mean another drive thru downtown Adelaide on the WRONG side of the road.
It was good thing we didn't begin our drive toward Ceduna today. We would have been a couple hundred miles away before I realized the Passport was missing.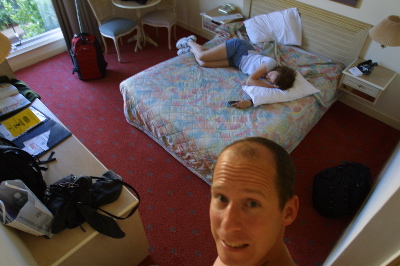 Not quite the swanky digs of the island but we will be here less then 12 hours.
We decided to treat ourselves to a NON exciting dinner at McDonalds. We had enough adventure for the day and it was just our pace right then. Beth noticed something that was kind of cool. Some of you may recall the 'old apple pies' that McDonalds changed after getting sued in the States. Apparently they thought the filling was too hot. We'll if you get a craving for those old pies... head down under, they still serve them here.
Then we stopped at an Internet Cafe to send another eMail update and headed back to the Hotel Adelaide International, fancy name for an old dump, and hooked everything up to charge one last time before the drive thru the outback tomorrow.
It will be an early, and a LONG day.