Day 17 - The end of our Journey
Thursday December 5

On January 30, 1774, at 4AM in the bright sunshine of the antarctic summer, the sea began to freeze around him. Cook was forced to turn around. Realizing that he would never sail so far south again, Cook ran to the bow, clambered to the very end of the bowsprit, and waved his hat in exultation. His dream had seen a magnificent outcome: Cook had truly gone farther than any man had ever gone.
Ironically enough, I had just read this passage from the book Beth had given me for my birthday just the morning of the eclipse. The words were still fresh as we walked away and the parallels between Cook and our adventure were uncanny. However, where as Cook was on a quest to find the fabled Antarctic Continent we had not traveled nearly as far south as the great explorer.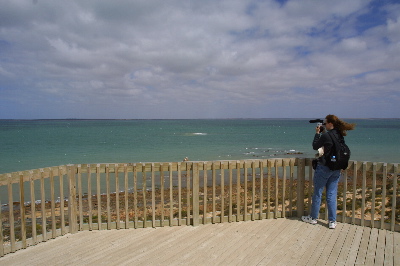 As we walked away from the very point of that small peninsula that we had viewed the eclipse from a huge wave of sadness had hit us. We realized that, like Cook, we had traveled to the furthest extent of our journey. In our case both literally and figuratively. Every step we walked, every kilometer we drove, every mile we flew, from that point on, would bring us closer to home.
---
We had traveled nearly 800 kilometers into the Outback to a tent city to witness a phenomena that God has created for the sole purpose of entertaining us and putting on a "show". At that moment our minds were as far from home as they could possibly be. Not only would we have to travel home physically but we would also need to 'decompress' and begin to warm up to the idea of sliding back into American culture. Driving on the right instead of the left. "Rent" instead of "hire". "Bathroom" instead of "Toilet". "Two fifty" instead of "two dollars fifty". Tiny little things that indicate you are home in the states.
We took one last photo at the tent city and on this occasion we actually solicited some help. The idea was to make it look kind of like an old style homesteader photo from the west. The two of us, all of our belongings and our little tent by the sea.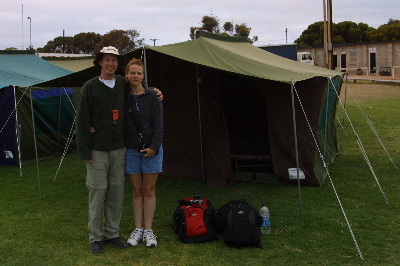 We got on the road by 7:00 were fueled up by 7:20 and headed down the A1 heading back to Adelaide and our plane. Luckily I am an eternal pessimist and always plan with contingencies.
Lost in the Outback
When you drive for 10 hours you forget some details, both big and large. As we headed out of the town of Wudinna where we had filled the tank I noticed that the gas gauge seemed as though it had gone down really fast from full. Fearing I had left the gas cap behind we pulled over to the side of the road to check. It was there, so maybe I just didn't top off the tank.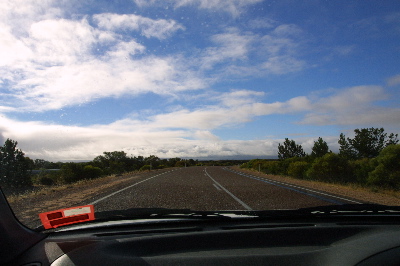 I think they stole it from Montana but they say that Southern Australia has "Big Skies"
It was easy pulling back on the road. Miraculously the traffic was much lighter then it had been before Wudinna. As a matter of fact at one point I commented that we had totally open road, not a car in sight either in front of us or behind us. Open road, 120 kilometers per hour flying through the outback... THE WRONG WAY.
After about 40 minutes of driving in almost pure isolation we were coming up on another town, Lock. Neither Beth or I remembered Lock from the drive out so she checked the map. Sure enough there was no Lock on the map at all. Wow, a town so small it doesn't rank enough to be on a map of the outback where ANY microcosm of humanity is recorded on paper. Then I asked Beth, "Is there ANY town called Lock, ANYWHERE on the map?".
"Well ya, there is, but it's way down here, way off the A1", (the road we are suppose to be on) she said.
We were 55 kilometers off course, lost in the outback.
Not totally lost but doesn't it sound WAY better then "55 kilometers off course in the outback". We knew exactly where we were we just had to decided how to get back. Had we chosen one of the few black lines that were on our map of the Eyre Peninsula we MAY have made it but we also could have ended up on a 4WD only dirt road in our Mitsubishi sedan. Quickly we decided to turn around and head back to Wudinna to get back on track.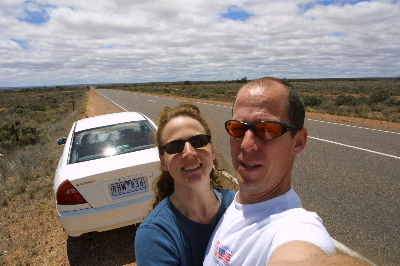 In some ways the drive reminded us of I5 but it was worse.
We took advantage of the fact that the 2 lane road was almost entirely desolate and cranked it up to 120 KM/H and I steered right down the center of the road. To add to the difficulty was the fact that we were in marked roo country. Hitting a roo at 10 KPH can ruin a car and many of the local have the "bush bumpas" (we actually found out they call them "roo bars") to protect their cars for WHEN, not IF they hit a roo. The combination of looking at a speedo that is reading 120 anything, the 2 lane road, the possibility of a kangaroo jumping in front of you AND being 110 kilometers off course has a way of really making you edgy and nervous, my hands and forearms were cramping up.
After getting back to Wudinna we found out how we had screwed up. As it turns out there is a full on right hand turn on the road to Ceduna which means there is a 90 degree LEFT hand turn on the way back. Well guess what? We had missed that turn.
Navigational Discovery
Captain Cook would pride himself in the ability to not only discover new lands but also to chart them and return to them again. Ever since loosing my headphones on the way to Ceduna the thought of them sitting on the side of the road in the outback had haunted me.
Beth and I discussed the possibilities, they had probably fallen off my lap when we got out to take a photo. I told Beth that if I was going to find the headphones at all it would basically mean, stopping in just the right spot, walking across the road, picking up the headphones and walking back to the car.
That is almost EXACTLY what happened.
Thanks to Beth's sharp eyes as we were flying thru the outback at 110 KPH again she spotted what looked like a Roo sign from the back, this also turned out to be about 25 kilometers from Iron Knob which is where the beginning of the worst of the Kangaroo area starts. That means that this would be the last Roo sign that we had seen and that was the one that we took the photo in front of.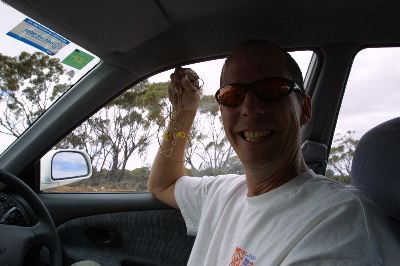 Chris, ENTIRELY to happy that he found is headphones.
I was ecstatic and it was really, really funny. We had a really good laugh after I got back into the car with the, what turned out to be, fully functional headphones.
After passing Port Augusta and turning toward the south for the last push to Adelaide we started to play a game, I called it the "I Miss Game". We rattled off all the things that we missed. Our bed, Sony (our cat), knowing where you are and where you are going, CNN and the other 70 TV channels we have at home, our couch, and of course unlimited internet access - both downloading and uploading.
Although we didn't actually play the "I miss Game - Australia Edition", I bet that list would be long as well.
The rest of the drive was uneventful, just long, and we actually made it to the airport with time to spare. We caught the plane to Sydney and the most difficult thing to negotiate the rest of the day was getting some pizza delivered to the hotel.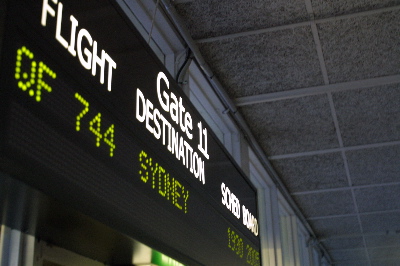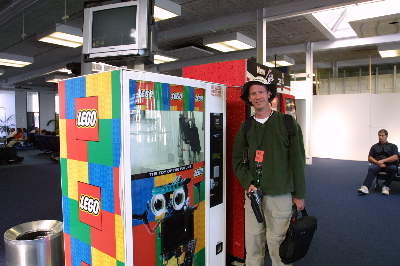 You gotta love this, LEGOs from a vending machine. Such a civilized society.